---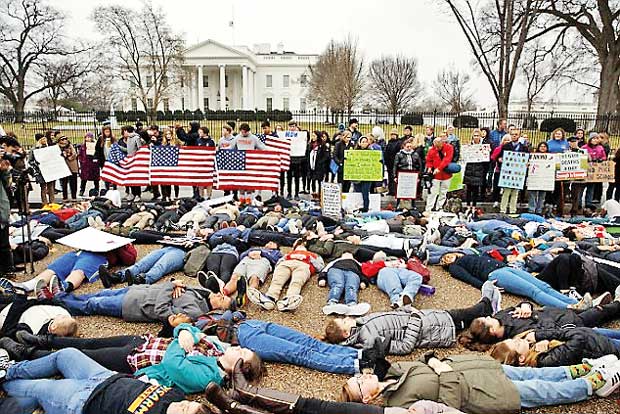 Students are in the middle of a lie-in protest outside the White House over gun laws just days after 17 people were killed in the Florida high school shooting massacre.

Groups of students from Washington DC staged the protest on Monday on a road leading to the White House.

They took turns lying on the road for three minutes - the same amount of time 19-year-old Nikolas Cruz went on a firing spree at Marjory Stoneman Douglas High School last week. Other students stood by holding signs that read 'Am I next?' and 'Is Congress or the NRA making
our laws?' Protesters started the protest at about 12.30pm on President's Day.

A Facebook post on the group's page said the lie-in was meant to be a 'representation of the victims of school shootings'.

'By doing this, we will make a statement on the atrocities which have been committed due to the lack of gun control, and send a powerful message to our government that they must take action now,' the group wrote.

'We will be the last mass shooting,' said Gonzalez, a senior at the high school who took cover on the floor of the auditorium as a shooter rampaged through the building.

She directly addressed President Donald Trump, reading out his tweet in response to the shooting and demanding to know how much the NRA had donated to his campaign.

US,( Daily Mail), 19 February 2018