---
Germany, (Daily Mail), 17 February 2018 - Theresa May sternly rebuked a former German Ambassador who told her to reverse Brexit as she shut down a delegate for saying it 'wouldn't be a matter of national shame' if she called a second referendum.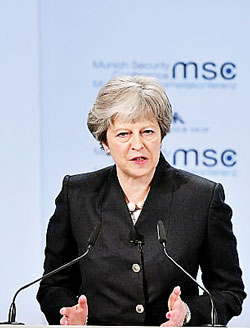 Applause erupted at today's Munich Security Conference after chairman Wolfgang Ischinger said 'things would be much easier' if Britain stayed in the EU.

The PM was also faced with another delegate who stood up and said it 'wouldn't be shameful' to give Britain another chance to vote on Brexit.

Mrs May shot back immediately, insisting Britain is leaving Europe and politicians should respect the population's decison. Questions about why she was pressing ahead with Brexit won louder applause from delegates than Mrs May's speech.