---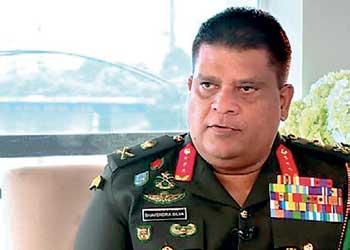 By Sandun A. Jayasekera
Chief of Defence Staff and Army Commander Lt. General Shavendra Silva said the efforts of health authorities, the armed forces and the Police had been able to restrict the spread of Covid-19 to one cluster and it was a positive sign that Sri Lanka would be in a position to fully control the pandemic before long.
"We have been able to narrow down the Covid-19 infections to one cluster of heroic Navy men from the Welisara Naval Detachment. Not a single man or woman has been tested positive with the viral infection in the last 18 days or so from any part of the country.

This is quite an achievement in the fight against Covid-19. But we must not relax our alert for a moment and make room for complacency because the threat has not fully disappeared," General Silva stressed. Random Polymerase Chain Reaction (PCR) tests would be continued among the communities with the focus on Colombo and suburbs as it is possible that one or two individuals could be tested positive in the society even without the knowledge of the infected person. That is how the Covid-19 behaves," Mr. Silva noted.

Meanwhile, the toll of Covid-19 infections in the country rose to 960 yesterday with the detection of 23 Naval ratings and two others by early Sunday bringing the number of new detections to 25. General Silva, who steer heads the war against Covid-19 said both civilians who tested positive for Covid-19 were from Kandakadu and Miyankulama quarantine centres who had been in close contacts with the Navy men.