---
Says these institutions with vested interests have edited his 45-min. speech into a 1-min. clip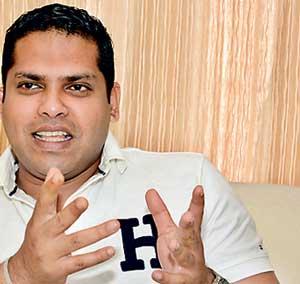 By Yohan Perera
In a letter addressed to Archbishop of Colombo, Cardinal Malcolm Ranjith, former MP Harin Fernando said his speech in Polonnaruwa had been distorted by some media institutions with vested interests.
"The 45-minute speech made by me at the rally in Polonnaruwa had been edited into a one-minute clip before telecasting it released by these media institutions. The edited clip distorts my message. I have now made my entire speech available to the public, so that anyone wishing to understand my speech in its entirety can do so," Mr. Fernando said in his letter addressed to the Cardinal. "When news broke of the terror attacks I rushed to Colombo as soon as I could. On my way back, my sister called to mention that our father had told her something to the effect that churches would be attacked, when she had visited him the day before. When I visited him before a news conference, I asked him what he had told my sister. His reply was brief and being his true self said he knows everything. My dear and loving father was dying at the time. He was heavily sedated under a lot of medication. Therefore, no one in my family took him seriously when he had first made the statement. I wish we had. But it doesn't justify the insensitive comments made by people of my dead father. I assure my Catholic and Christian community that if I had been privy to any prior information relating to the Easter Attacks on our churches, I would most certainly have brought it to your attention and to the relevant law enforcement authorities."

Mr. Fernando said the feelings he expressed at the news conference was just that.

"How was it that, if a citizen like my father heard this rumour, the President and responsible officers did not. If I had done something wrong, it was the duty of my Chief Shepherd in Colombo, His Eminence the Archbishop, to confront me (a member of his flock) with it personally. If that failed he could have counselled me along with other leaders of the church. The Gospel of Mathew (Catholic Bible, Mathew 18:15-17) records this teaching of our Lord Jesus Christ: "If your brother does something wrong, go and have it out with him alone, between your two selves. If he listens to you, you have won back your brother. If he does not listen, take one or two others along with you...But if he refuses to listen to these, report it to the community.." Mr. Fernando said in his letter.