---
in Maha Divul Wewa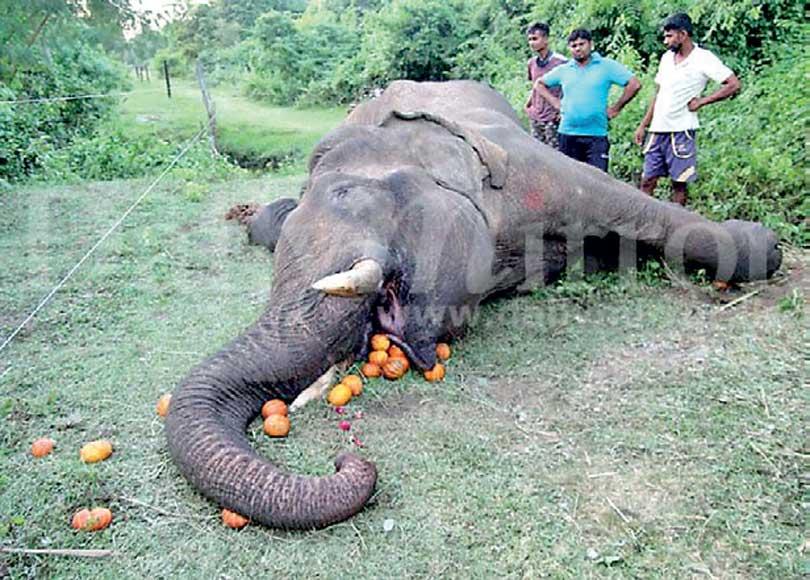 Elephant was shot with an automatic gun
150-200 elephants roamed near the Inginimitiya reservoir some 10-15 years ago
Wound was quite large that the veterinary surgeon could put his hand through the opening
If not for a political affiliation, one cannot have such large operations in sensitive areas
by Kamanthi Wickramasinghe
Another elephant was found lying dead near the Inginimitiya reservoir in Maha Divul Wewa.
The post-mortem report confirmed that the bullet has pierced the elephant's skull and had reached it's brain. According to DWC veterinary surgeon Dr. Isuru Hewakottage the elephant would have been shot four to five days ago. "It was seen near the Inginimitiya reservoir on June 27 according to area residents. By June 28 it had fallen.
The wound was quite large and sore. Usually elephants are shot with muzzle-loader guns but this bullet has pierced through several layers of its skin and the wound is quite large. But, we were unable to find the bullet." An anonymous resident of Galgamuwa said that there used to be 150-200 elephants roaming near the Inginimitiya reservoir some 10-15 years ago. "But today there are illegal cultivations adjoining this reservoir. These people don't allow elephants to drink water from the reservoir or feed on the grass.
As a result they go in search of food and encroach into nearby villages and destroy cultivations. If not for a political affiliation, one cannot have such large operations in sensitive areas. It was revealed that the elephant was shot with an automatic gun hence the unusually large wound. Wound was quite large that the veterinary surgeon could put his hand through the opening. Usually, T56 or similar weapons are used by Army, Police and those in the forces. So if such a weapon goes into the hands of a poacher it could be that they were politically connected." The Daily Mirror learned that investigations by the Mahawa DWC office with the support of Ambanpola police station are on to arrest suspects in this connection.