---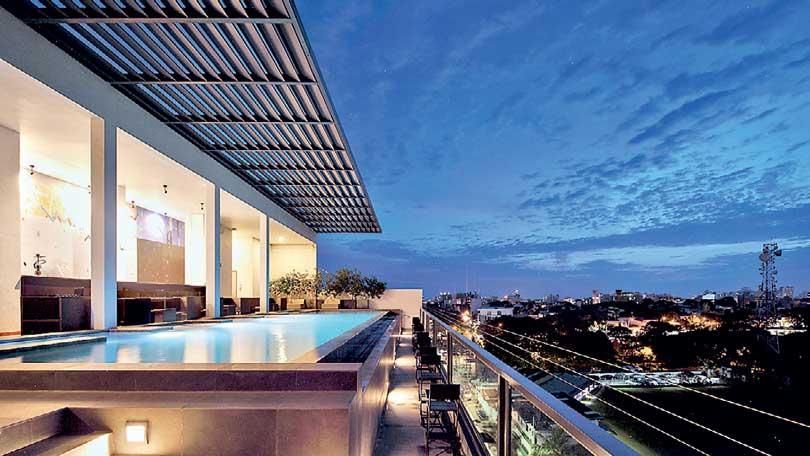 Rooftop view from ME Colombo
Pix by Samantha Perera
By Harshana Sellahewa
ME Colombo, standing as the only design concept hotel in Colombo, with a mesmerising view of Colombo's skyline, boasts high-end atmospheric offerings along with understated elegance and refined luxury, reiterating serenity in itself.

Overseeing the renowned Colts Cricket Club ground, this stylish modern boutique hotel utilises its design concept to differentiate itself from other mainstream high-end hotels, as every turn, every corridor and every room has a new artistic experience for guests to distinguish their stay at ME Colombo, to make it an unforgettable one.

The hotel is the brainchild of Madhawa Gunawardhene, who is Chairman and Managing Director.

This is Gunawardhene's second venture after obtaining the necessary industry experience and technical know-how in the hospitality scene with his first venture, Rockwell Colombo, located off Ward Place, Colombo, which was immensely successful from its inception.

"For the design of ME Colombo, we tracked down one of the best architects in Sri Lanka, who also came up with the perfect style to suit our expectations," said Gunawardhene.
He remarked that the expensive investment for the design was worth it, as the end-product was more than up-to their requirement.

ME Colombo was commissioned in early 2018 and according to the management, has been performing well to date, despite obstructions faced in Sri Lanka's tourism and hospitality industries. Smart and quick strategies have enabled the management to keep the hotel's heartbeat running and revenue margins stable in difficult times.

It is centrally situated down Park Road, in the vibrant city of Colombo. It is close to the city's main attractions, be it the Museum of Colombo, which houses some of Sri Lanka's finest treasures and the Gangarama temple, which has intricate brass carvings, numerous sculptures and some mesmerising Buddhist art.

The convenient location provides further ease to guests, offering in its close proximity, access to the best shopping centres in Colombo, situated close to the hotel, such as Liberty Plaza, Majestic City, Marino Mall and Odel.

A little further ahead, there is the zoological garden in Dehiwala and the sun-kissed beaches of Mount Lavinia, where azure waters meet the bluest
of skies.


The commute to and from the airport is a breeze as ME Colombo is in route to Southern Expressway from the Colombo airport providing easy access to and from the Colombo
Main airport.

Further commenting on the hotel's features, ME Colombo General Manager Rusira Perera explained that the hotel has a little over 40 staff members, all of who reiterate the notion of unity when it comes to getting work done.

The management keeps great pride and trust in their staff and commends the services and dedication depicted by these skilled individuals, including the hotel's Front Office Manager Thanushka Fernando, Finance Manager Nijani Seneviratne, HR Manager Rachel Fernando and Maintenance Supervisor Dinesh.

"Everyone here is out to help each other to perfect every detailed aspect of the hotel and most of all, to serve the guests to their hearts' content. Customer satisfaction is our main focus, to provide them an unforgettable experience," Perera said.

He further explained that ME Colombo is a 11-storey design concept hotel that holds a total of 22 rooms, a combination of three categories respectively from standard to high-end – Deluxe, Superior and Suite.One of the main highlights of ME Colombo is its signature 'MY Rooftop and Lounge' pool and bar. The rooftop pool is large in size and satisfying in design and includes a jacuzzi to heighten the luxurious bent and as if it's not enough, the rooftop offers a spectacular view of the city below.

Further elaborating on some of the hotel's features, Fernando said, "The indoor and outdoor dining areas at ME Colombo's MY Dining can accommodate over 100 guests and can also be offered as the ideal venue for private functions. As well as offering these premium dining and leisure services to those who stay at the hotel, we also welcome outsiders to use both our dining area, bar and pool and we have also launched a special membership privilege card called 'MY Life' for frequent guests and residents of the area."

"We've also gained popularity as an ideal destination to host group events and birthday parties at the rooftop or the restaurant. We also have a conference room, perfect for board meetings plus business lunches and corporate dinners," Fernando added.

The features of ME Colombo don't stop there, as guests have the opportunity to tantalise their taste buds to some of the hotel's delectable delicacies from international cuisine, by the hotel's renowned Executive Chef Neville Sanjeewa. The hotel has a modern visually breathtaking restaurant, which is open throughout the day, with a well-stocked bar
at hand.

A variety of mouth-watering fare is available around the clock and the breakfast at ME Colombo must be seen to be believed, for it ranges from continental dishes to a-la-carte cuisine to a full English breakfast. An assortment of international dishes is also available to tempt the most discerning palette.