---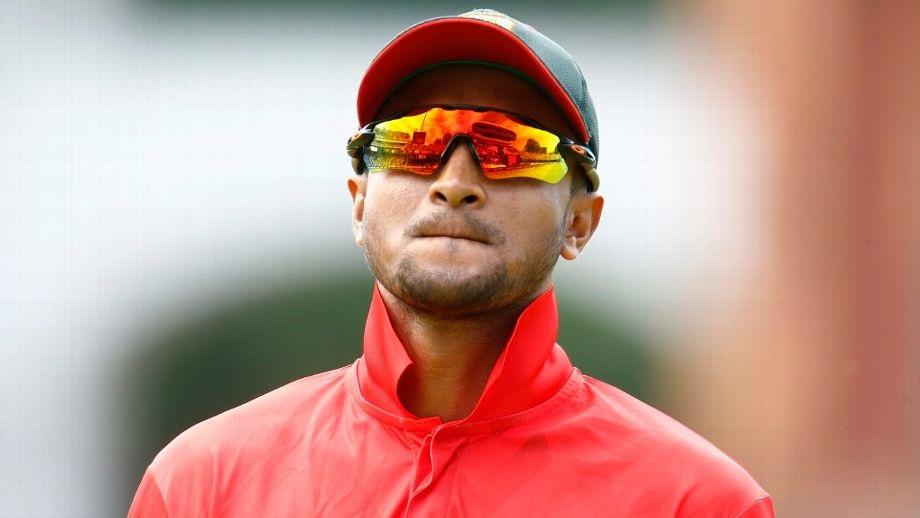 Bangladesh Cricket Board is hoping to include ace all-rounder Shakib al Hasan at some stage during the upcoming tour of Sri Lanka. The series, which was postponed in June this year, is expected to be made up of three Tests.
It is learnt that BCB's president Nazmul Hasan has already spoken with Shakib to know about his thoughts on joining the Bangladesh side. On his part, Shakib is planning to start his training from next month in BKSP, a sports complex in Dhaka. The all-rounder is currently serving a sanction for failing to report multiple approaches made to him by a bookie, and his suspension period will end on October 29.
''He will be ready [after completing the individual training session],'' Russell Domingo, Bangladesh coach, said.''There is not much he can do. Need to talk with the selectors first and it's still a long way to go. He does need to play some cricket before he plays for us. Any cricket will be good. All our players will be without any competitive cricket and so it should be the same with him. Any cricket will do,'' he added.
Minjahul Abedin, the national selector, said that they need to assess Shakib's fitness and 'mental state' before making a decision. ''Look, he cannot practice with us till October 28. After the ban is lifted, we need to see his fitness and mental state before deciding on anything. After assessing his condition, we will talk with the team management and if we see he is ready to play, then we might opt to include him... otherwise not."
Meanwhile, the board is looking at preparations for the tour. Bangladesh squad's training sessions would include skill training in the nets. The squad would also play practice matches against the High Performance squad. However, they can't play practice games against local sides as Sri Lanka Cricket won't allow their cricketers to come into contact with the tourists before the 14-day quarantine period.
BCB cricket operations chairman, Akram Khan, said that the tourists will leave Dhaka on September 23, and the first Test is expected to commence on October 24. "We will go there on September 23 while the Test series will start from October 24," Akram noted. "Right now, they are saying only about Colombo as the facilities are good there but these things are still in discussion," he added.