---
EDB chief Subasinghe reiterates need for export-friendly policy framework to push sector
Points out struggle of working with 160 plus line agencies
Says pandemic an "incredible" opportunity for govt. to digitise all export related processes
By Shabiya Ali Ahlam
As Sri Lanka looks to steer though the pandemic with lowest impact possible, the Export Development Board (EDB) called on the government to create a more enabling policy environment and place exports as a national priority.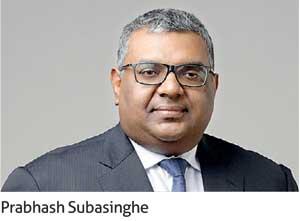 "The policy framework needs to be more friendly towards the exporters and for that exports must become a national priority. We from the EDB can plan full steam ahead but we have to work with another 160 line agencies," EDB Chairman and Chief Executive Prabhash Subasinghe told Mirror Business.

"If they don't understand the importance of what we are doing, if they don't realise the value that Sri Lanka is creating, the importance of bringing foreign currency into the country, if they are not going to assist the exporters in the way they should, then I cannot do my job," he lamented.

Subasinghe stressed that exports should become a priority for all so that it becomes easier for the sector to move forward.

Over the years exporters have highlighted to the government the red tape in the system that had led to delays and dampened productivity.

Despite the pleas and representations made to successive governments, no real progress has been achieved in this regard.

The EDB chief opined that the COVID-19 pandemic is an "incredible" opportunity for government institutions to make its processes easier to work with.

"Using COVID as an excuse is a great way for Sri Lanka to digitise everything we do. If all the line agencies made it easier for exporters to go forward, from importing raw materials, to getting the necessary approvals; if all the red tape can be reduced; we can move far ahead," he said
Touching on the challenges exporters would likely face post-COVID-19, Subasinghe said, one of the key hurdles would be for businesses to transform themselves to be able to be operational in the new environment.

"Businesses must have the mindset ready to go through this. It's a long term gain, so they should look at how they can adapt their businesses, make them agile and flexible to meet the environment that is going to be in front of us in the next two years, " Subasinghe noted.