---
Will take over 20 years to reach higher income status at current growth levels
Achieving 8% growth rate poses challenge due to slowdown in global growth and trade
Says pressure a "good big push" in terms of boosting competitiveness and innovation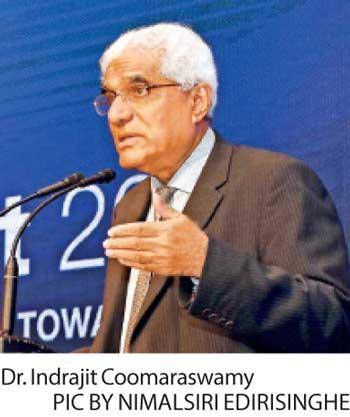 By Shabiya Ali Ahlam
The Central Bank chief yesterday shared his recommended recipe for Sri Lanka to avoid getting caught in the middle income trap, which is likely to happen if the government failed to streamline the economic focus and macro-economic fundamentals.

With the country having recently graduated to the upper middle income status, achieving a per capita GDP that is slightly in excess of US$ 4000, CBSL Governor Dr. Indrajit Coomaraswamy implied a more intelligent policy framework is required to be in place at the earliest.

As Sri Lanka would need to reach the higher income category by stretching its per capita income to US$ 12,000, the goal could be reached in 15 years, provided that it achieves an average annual growth rate of 8 percent. While at the current growth rate, averaging at 3-4 percent, it would take Sri Lanka well over 20 years to reach the next level, said Dr. Coomaraswamy, adding that reaching the 8 percent average and progressing within the 15-year period remains a challenge.

"If we are able to achieve an annual average growth of 8 percent, we will get there in 15 years.
A number of countries with that growth rate got to a higher status within that time frame but that was a different world," he said addressing a fully packed audience at the Sri Lanka Economic Summit 2019 held in Colombo last evening.

Pointing out that the global growth has slowed down which in turn has reduced the growth pace of global trade, Sri Lanka would struggle to achieve the much sought 8 percent average.
"If we achieve the average growth rate recorded in the post conflict era, which was 5.6 percent per annum, then we can get there in 20 years. If we go about the average growth achieved in the last few years, it will take even longer," he added.

The Governor, who is also a senior economist, professed that the middle income trap comes about when a country's wages can no longer compete with other low income countries, on the basis of the wage competitiveness. Meanwhile these economies cannot compete with higher income countries as well since their productivity and innovativeness is not strong enough. Sri Lanka is caught in the middle of such a situation, implied the governor.

In the current context, Dr. Coomaraswamy said, "The pressure really is to make a good big push in terms of boosting competitiveness, boosting innovation so that you become increasingly competitive, and get out of the trap."

Required to avoid the trap are two paradigm shifts, which are; macro stability and fundaments, and an improved growth framework through higher productivity and innovation.
In a bid to progress to higher economic status, he stressed that Sri Lanka should look at connecting the seven dots, which are; inflation, debts and deficits, exports and exchange rates, labour markets, long term planning, competitiveness and productivity, and institutions, backwards.

"The natures of these dots vary. Some may seem isolated, others may seem obscure and some may be missing. Policy makers and stakeholders, small and big, across the economy must come together to somehow connect these dots to take our country to the final destination," asserted the governor.