---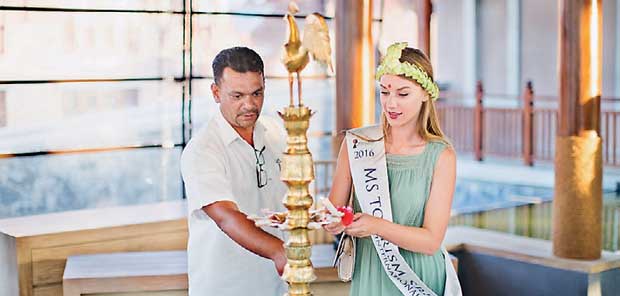 The winner of the inaugural Miss Tourism Sri Lanka - International, Miss Vera Dijkstra, holidayed with Anantaya Resorts in Pasikudah and Chilaw on a recent visit to the country, enjoying the lavish serenity and hospitality of Sri Lanka during her stay.
She was received in Colombo by the Laugfs Leisure team before she commenced her two-day stay at the latest addition to the Anantaya chain of luxury resorts, Anantaya Resort &
Spa – Pasikudah.
Dijkstra was welcomed warmly by Resident Manager, Ranika Wickramanayake and team, where she spent the next two days enjoying the tranquillity of the breathtaking golden beaches and the renowned turquoise blue seas of Pasikudah. In addition to its magnificent swimming pool, the resort provided Miss Dijkstra with the luxury of her own private plunge pool, which she greatly enjoyed during her brief stay. She was also able to enjoy the delightful delicacies of 'Blue Coral', the Resort's unique seafood and fusion restaurant, where the Chef and Food & Beverage team served her special seafood cuisine using local fresh seafood, with a delectable international touch.
At the end of her two-day excursion at Anantaya Pasikudah, Miss Dijkstra proceeded onto Anantaya Resort & Spa – Chilaw where Dev George, the Resident Manager of the resort, and his team warmly welcomed her. Aside from enjoying the tropical beaches and the Resort's two large swimming pools, she took part in some exciting activities such as kayaking and Anantaya's latest recreational activity, horse riding. Miss Dijkstra was also made privy to the unique experience of embarking on Anantaya's emission-free electric car excursions to the Wasgamuwa and Anawilundawa nature parks, a first of a kind offered in Sri Lanka.
"It was truly a privilege for Anantaya Resorts & Spas to host Miss. Dijkstra during her brief stay in Sri Lanka. As one of the most sought-after beach resorts in the country, we are fully-geared to cater to the desires of every traveller seeking relaxation and comfort in our beautiful tropical island. Having partnered with the Ms. Tourism Sri Lanka – International beauty pageant from the very beginning, we are delighted to have the winning contestant, Miss Dijkstra, visit us once again to enjoy the luxury and comfort of our Resorts and to experience the treasures Sri Lanka has to offer, enabling her to do justice to her role as Tourism Promotion Ambassador in taking Sri Lanka to the rest of the world," remarked Laugfs Leisure Director / CEO, Roshan R. Perera.