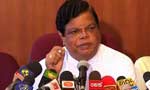 The joint opposition today requested the government to table fresh budget proposals in Parliament in January, to enact new amendments proposed by Prime Minister Ranil Wickremesinghe, so as to cover the budget expenditure and lessen its deficit.
UPFA MP Bandula Gunawardane stated that the amendments submitted by the Prime Minister immediately prior to the third reading of the budget on Saturday, had not been officially tabled in Parliament.
"Budget proposals of the first reading were passed in Parliament, but the amendments later mentioned by the Prime Minister were not even tabled or passed. These proposals are mere statements which hold no value or assurance. Thus, we request the government to submit new proposals to Parliament in order to enact them," he told a news conference held at the Dr. N.M. Perera Centre.
He further mentioned that Finance Minister Ravi Karunanayake had neglected President Maithripala Sirisena by proposing to move the bank accounts of state institutions at state banks to private banks. "This is something the President had not agreed upon. People will lose faith in state banks because of this move," he added.
Mr. Gunawardane pointed out that imprudent economic plans of the government would result in the collapse of the country's economy in three months, without the assistance of the International Monetary Fund (IMF).
(Lahiru Pothmulla)