---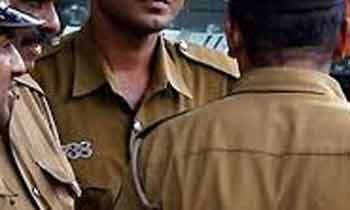 The entire Thebuwana Town in the Kalutara District was engulfed with fear this afternoon when an enraged police sergeant armed with a T-56 assault rifle took to the streets protesting in a violent manner for letting a driver of a lorry transporting sand, who was arrested by him recently, go scot-free allegedly on the orders of the police hierachy.
The sergeant, attached to the Thebuwana Police Station, was furious to learn that the lorry driver he arrested on September 29th for transporting sand sans a permit, was not going to be produced in court yesterday as scheduled. He had then grabbed his service T-56 rifle and started behaving in a violent manner.
Senior police officials, including Kalutara Division SSP Upul Nilmini Ariyaratne, who rushed to the scene, attempted to pacify the irate policeman in a drama that unfolded for two hours while traffic was at its peak following the closure of schools in the afternoon.
The Police Special Task Force (STF) had to be called in as the senior police officers on hand were unable to persuade the protesting sergeant to put down his weapon.
The sergeant's daughter, who had been returning home after school, who happened to pass by had rushed to the scene while his wife too had come to the area and tried to pacify him as well but to no avail.
However, while his attention was diverted by something else two of the STF personnel, who had been brought clad in plain clothing, had managed to overpower him. During the struggle that ensued the sergeant had managed to pull the trigger twice releasing two rounds of fire into the air, frightening a number of persons in the vicinity, yet hurting no one.
He was soon taken into custody along with the weapon he had with him.
The sergeant alleged that the lorry which had been seized by him for transporting sand by violating its permit conditions had been released under the discretion of the Thebuwana Police Officer In Charge (OIC) for some unknown reason.
The suspects taken into custody along with the lorry on September 29, were to be produced in court yesterday (3). He got annoyed after he got to know that the suspects were not produced before court.
SSP Kalutara Division however said that the OIC had released the lorry after checking that the relevant documents and permits were valid. The sergeant is due to be produced in court today (4). (By Sunil S. Thanthriarachchi, Bimal Shyaman Jayasinghe, Thusitha Kumara De Silva and Bandu Thambavita)
Video by Buddhi