---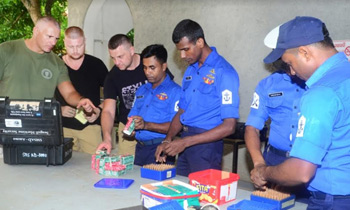 The Sri Lanka Navy will provide services and security from the Galle Onboard Security Team (OBST) centre to Netherlands Merchant Vessel Protection Detachments (VPDs) operating in the Indian Ocean from this month.
The Navy said the Netherlands VPDs are expected to embark and disembark Dutch Marines as well as store small arms at the OBST facility in Galle in the coming weeks. They said the Dutch Marines will be providing onboard security to the Netherlands Merchant Vessels frequenting in the Indian Ocean.
Commander of the Navy Vice Admiral Ravindra Wijegunaratne on Monday inspected the services being put up at the Galle OBST operations centre, to facilitate Netherlands VPDs operating in the Indian Ocean.

The arrangement to provide facilities transpired as a result of the MoU signed between the Netherlands and Sri Lankan Government on May 16, 2017 at the Ministry of Defence.
Former Defence Secretary Karunasena Hettiarachchi, and the Netherlands Ambassador in Sri Lanka Joanne Doornewaard had then signed the MoU in the presence of Commander of the Navy and the Director General Operations of the Navy.
The initial discussion in this regard came into being during the bilateral discussions held at the last year's Galle Dialogue organized by the Sri Lanka Navy.

The Navy said the Dutch shipping register includes more than 1,200 Merchant Vessels and is considered as one of the most modern merchant shipping fleets in the world today. Most of the Netherlands shipping companies have increased their operations and agents like Nedlloyd, Netherland Line, and APL (Netherlands) are some of the prominent shipping companies that have made increased presence in the Indian Ocean. The above agreement remains to date as the first ever Government to Government MoU signed between Sri Lanka and a foreign country.

The Sri Lanka Navy undertook the facilitation of OBST operations following a directive from the President in November 2015. Since then the Sri Lanka Navy has completed 11,105 movements from Galle, Hambantota and Colombo operations centres and has earned over Rs. 3.8 billion to the Government coffers as of Tuesday (08).

The highly convenient facilities provided by the Sri Lanka Navy at their Galle OBST operations centre have been praised by a large number of companies engaging in providing OBST for a Merchant Vessels, the Navy said.(Darshana Sanjeewa)