---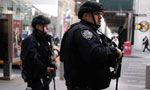 President Maithripala Sirisena arrived at the John F Kennedy Airport in New York September 18 evening amidst tight security as the city suffered a major security threat with an explosive device going off on the previous day injuring 29 persons.
The President is scheduled to address the UN General assembly in the afternoon of September 21. He is also scheduled to speak at the High-Level Event on Open Government Partnership with several leading nations to be held at the UN Headquarters on September 20.
He will also meet several leaders for discussions on bilateral relations and international issues.
President Sirisena will also interact with global leaders at the reception host by US President Barak Obama and at the reception and luncheon host by UNSG Ban Ki-moon.
The UNO and surrounding areas are under a heavy security blanket after the explosion that took place within hours of the arrival of advance delegations. (Kesara Abeywardena)