---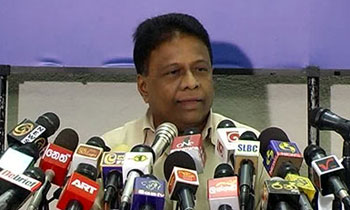 The Joint Opposition (JO) today said there was no point in continuing to represent the oversight committee on Hambantota Port agreement if the government has already made up its mind over the agreement.
JO National Organiser MP Dullas Alahapperuma said it seems the government was bypassing Parliament to close the port agreement.
"This is what the government did in 2001 when entering into an agreement with the LTTE. They didn't seek Parliament consent. Today, the United National Party (UNP) says Cabinet approval has been granted to the deal whereas the Sri Lanka Freedom Party (SLFP) says no approval had been granted so far," he told a news briefing.
He said not even a draft of the port agreement had been submitted to the Parliament oversight committee appointed to look into the port deal so far.
The MP said they would make a decision about their representation in oversight committees following a discussion if government continues to sideline these committees when making decisions. (Lahiru Pothmulla)