---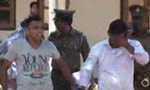 Four police officers including the OIC of Hambantota police had been transferred pending an inquiry into the disappearance of a youth who was in police custody over a theft he allegedly involved in.
The 20-year-old youth had been arrested along with two more suspects in connection with a paddy theft in Bandagiriya, Hambantota a few days ago.
He was reported missing since September 05, while being detained by the police.
One of the other two suspects had been admitted to the Hambantota Hospital after being allegedly assaulted by the police during detention. The third suspect had been released by the police, it was reported.
Meanwhile, the police had told the family of Gayashan that he had fled from the cell.
However, the family members today filed a complaint with the Human Rights Commission over the disappearance of Gayashan and charged that the police was behind the disappearance.
They charged that the youth had been already beaten up by the police by the time he was arrested.
Video by Roshan Gunasekera