---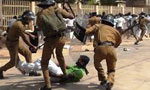 In nearly half of the cases of human rights violations against sexual and gender minorities in four countries of South Asia police are "found" to have been "involved", a report has claimed.
The report released here by South Asian Human Rights Association has compiled over 156 cases of human rights violation against sexual minorities during 2014 and 2015 - 16 from India, 56 Bangladesh, 62 Nepal and 22 from Sri Lanka.
The report stated that though age of the victims of human rights violations span from 14-57 years, in majority of the cases they are in the age group of 20-41 years.
"Among those of the perpetrators whose profession is known, police constitute almost 50 per cent. When the victims are transwomen, the police constitute 69 per cent of the perpetrators," the report stated.
The study also revealed that among lesbian and bisexual women and transmen, the picture is starkly different.
"Family members (16 per cent) and neighbours (17 per cent) are the major perpetrators of violence. The gay and bisexual men in this sample experience violence chiefly from family members (26 per cent), neighbours (10 per cent) and the police (17 per cent)," the study claimed.
The report also made recommendations like repealing of section 377 of the IPC which criminalises gay sex. (Press Trust of India)