---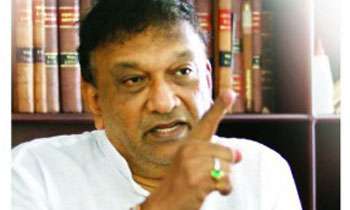 Parliament was prorogued according to tradition with the proper procedures being followed, Leader of the House Minister Lakshman Kiriella said yesterday.
Mr. Kiriella was addressing journalists in Kandy. "Prorogation is a common procedure which is followed to allow MPs and Parliamentary staff to have a break," he explained.
Referring to reports that a majority of SLFPers attached to the unity government were going to cross over to the opposition when the House convenes on May 8, the minister said these were only speculations.
"There were a lot of rumours going around even when the no-confidence-motion was brought against Prime Minister Ranil Wickremesinghe saying many UNPers would vote in favour of the motion, however as you know no such thing happened. Therefore, any one can say anything. Lets wait and see what is going to happen," he told journalists. He claimed that a section of the SLFP was willing to work with the UNP.
Asked about the claim that the opposition leader's post was wanted by the joint opposition, the minister said Speaker Jayasuriya will have to give a ruling on it.(Yohan Perera and J A L Jayasinghe)
Video by Nadeeka Dayabandara