---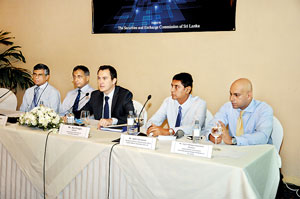 The Sri Lanka's capital market watchdog Securities and Exchange Commission (SEC) is currently considering the restriction corporate debt issuances which are coming with below investment grade, according to a top SEC official.

Director Capital Market Development at the SEC, Vajira Wijegunawardane yesterday told a forum that the market should not allow issuances with low ratings to be listed even in the second board as failures could damage investor confidence which sometimes could never be regained.

"This is something we are currently looking at to see whether we can restrict them," he said, speaking at a round table discussion on the Corporate Bond Market (CBM) outlook.

According to the Colombo Stock Exchange's (CSE) listing rules, a company can list its debt instruments in the Second Board irrespective of their credit rating. However listing in the Main Board requires the debt instrument to have the investmentgraderatingof BBB.

Be it the Main Board or the Second Board, the risk associated with the instrument is the same and thus the investors become vulnerable by investing on such low rated bonds, some analysts point out.

Another section of analysts argue that there should be debt instruments with different risk and return profiles as investors assume different risk appetites. They also said that the regulator should not regulate issuer's rating, but the investment bankers who manage these issues.

Meanwhile, the CSE Director Vajira Kulatilaka said that unsophisticated investors could sometimes be driven more by a higher interest rate than the credit rating of the debt instrument. "In fact we insisted the minimum should be at least BBB+ and not anything below," he remarked.

Kulatilaka who is also the CEO of NDB Investment Banking Cluster is one of the members in a committee that decides on the minimum issuer ratings.

Sri Lankan companies are currently in a debenture rush, getting the maximum benefit of the withholding tax exemption allowed on such interest income. Year-to-date, 18 Lankan companies have raised as much as Rs. 40 billion through debentures, breaking the previous highest of Rs. 15 billion recorded in 2010.

"People simply cannot bear a single debenture issue failure at this pace market growth. We have to be very careful in getting credit ratings. So, we are very careful in deciding who should come to the market," Kulatilaka stressed. In 1996, Bangladesh suffered a debenture issue failure and the corporate debt market never recovered since then.

These comments were expressed at the International Organization of Securities Commissions (IOSCO) Asia-Pacific regional committee, CBM outreach program in Sri Lanka hosted by SEC at Colombo Hilton.
---
Add comment

Comments will be edited (grammar, spelling and slang) and authorized at the discretion of Daily Mirror online. The website also has the right not to publish selected comments.

---