---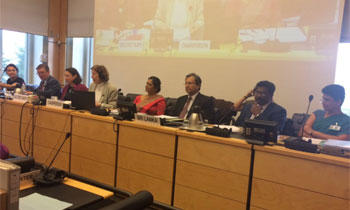 Sri Lanka maintains a zero-tolerance policy regarding cases of violence against children and is committed to bring perpetrators to justice as expeditiously as possible, the government said yesterday.
In Sri Lanka's opening statement at the 77th Session of the Committee on the Rights of the Child (CRC) held at the Palais Wilson in Geneva, Women and Child Affairs Secretary Chandrani Senaratne said adequate laws have been put in place in this regard.
"At the level of implementation, 42 children's and Women's bureaus have established at police stations across the country to look into complaints pertaining to children. The National Child Protection Authority (NCPA) also accepts public complaints on child abuse and channels such complaints to law enforcement agencies," she said.
She said the Justice Minister in November 2017 has established a Special Committee on Reforms in Justice for Children, as a follow up to a joint study conducted with UNICEF, to review the recommendations of the assessment report about the status of justice for children in Sri Lanka.
Over decades, Ms. Senaratne said Sri Lanka has built a viable child protection system, which covers the entire country with over 1,500 dedicated staff at grass root levels and administrators.
"Compared to the South Asian region data, the ratio of children in institutional care, and stunting in children under five is relatively low (13%) in Sri Lanka and the situation has further improved over the last decade," she said.
However, she noted that about 200,000 children under five years are suffering from acute malnutrition in Sri Lanka and that they were working with UNICEF and World Health Organization to address the issue.
Meanwhile, she said pursuant to land releases, as at end October 2017, the government had resettled a total of 256,972 families consisting of 891,125 individual persons.
"It has also rehabilitated 12,182 former combatants including 594 child soldiers. Landmines have been cleared in approximately 135.4 square kilometers in the North and the East from 2002 to 2017. Mine clearing in the remaining 25.5 square kilometers is in progress," she said.