---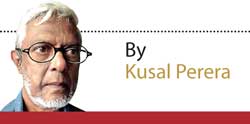 'Global Park workers on strike over haphazard termination' read the headline to a news report that appeared on DM Online edition of 16 January, 2017. It said that 66 workers had been "suddenly removed" from employment.
They were all members of the Free Trade and General Services Employees' Union (FTZ&GSEU). The news report also said,"….discussions with the owner of Global Park, Onella Karunanayake, regarding this were proved futile." It is no secret that this is a family business of Finance Minister Ravi Karunanayake and he definitely calls the shots in the business.

It was not long before, the FTZ union complained in writing to the Prime Minister about Karunanayake's high handed management and threats to workers at Global Park, targeting union activists. Few months before, a group of major private sector trade unions including FTZ&GSEU, who are members of the National Labour Advisory Council (NLAC), had complained in writing to the Prime Minister, protesting against Development Strategies Minister Malik Samarawickrama and a few businessmen, interfering to change decisions made at the Labour Ministry.

They are both long time businessmen with anti-union track records, now holding strategic ministries that define economic policy of this "unity" government.

In the Cabinet of Ministers, there are other big time businessmen and some linked to different businesses as well. It is therefore on the strength of this government, the whole approach in the export manufacturing sector management is fast changing into a crude, uncivilised and lawless practice, post January 2015.

The new confidence the export manufacturing sector employers gained post January 2015, in influencing government policies, the continued and growing apathy in State administration that also carries with it a heavily corrupt industrial and labour law enforcing officialdom adds to the arrogance in this sector.

This new arrogance, especially in the Katunayake FTZ, where the manufacturers' association is accused of collectively engaging in union busting, is meant to have daily paid contract labour through manpower agencies.

This "anti-union crusade" seems moving far too rapidly with this "unity" government that promised Good Governance paying little attention to stop violations. Private sector trade unions in the NLAC, have thus jointly made a request to the Minister of Labour to remove the Katunayake Manufacturers' Association from the NLAC membership for its anti-union, anti-labour activities.

This is a sad and an unforgivable turn of events, given the popular acceptance that ousting Rajapaksa created social space for freedom and democracy.

It is also sad, those who rallied to vote this hybrid government to power and "cheer" it all along, cannot define freedom and democracy to include trade union and labour rights as equally important as all other civil liberties and people's rights. They've probably not heard of the International Labour Organisation's Core Conventions. Their presence in Geneva never raised any violations on trade union and labour rights, even under Rajapaksa. They wouldn't go beyond their international sponsors, no doubt.

The international community-which preaches people's rights, accountability and good governance-has always ignored trade union and labour rights. In 2010, when the EU suspended the GSP Plus concession allowed for Sri Lanka, it was least bothered about violations of trade union and labour rights, despite ICTU and the EUTC presenting a well argued case on labour rights violations in Sri Lanka.

The international community never spoke about trade union and labour rights to be included in the IOSL-31 Resolution, when they included all other "Rights" as fundamentally important for decent living. The US too accepted what the Rajapaksa government said about trade union and labour rights to extend their GSP concessions to Sri Lanka in 2013, ignoring all evidence on serious violations.
While taking a moral high ground on safeguarding human rights and all other rights in relation to ICCPR and CAT, the international community ignores ILO Core Conventions as the absence of such labour rights benefit investors.

They even ignore the UN Charter on Human Rights when it comes to labour rights. HR Charter very clearly and without any ambiguity, includes labour rights within Human Rights. Article 23 of the UN Human Rights Charter says;

(1) Everyone has the right to work, to free choice of employment, to just and favourable conditions of work and to protection against unemployment.
(2) Everyone, without any discrimination, has the right to equal pay for equal work.
(3) Everyone who works has the right to just and favourable remuneration ensuring for himself and his family an existence worthy of human dignity, and supplemented, if necessary, by other means of social protection.
(4) Everyone has the right to form and to join trade unions for the protection of his interests.

Yet, that part of human rights, the right to join a trade union, right for decent work, right for just and favourable remuneration as wages have all been ignored in all campaigns that claim to defend Human Rights in Sri Lanka. This bifurcation of rights into two; one the hyped human rights and war related crimes and then the second, the most comfortably ignored labour rights has made it easy for governments to avoid answering violations of trade union and labour rights and for the employer to violate labour rights.

Most violations of labour rights and all union busting and unfair labour practices are seen rapidly increasing in the export oriented manufacturing sector that come under the BOI-SL within and outside FTZs. It was this large sector that was given all the benefits by every government, beginning with the Jayewardene government that pioneered this neo-liberal, free market economy in 1978. It is this sector that is treated right royally and is promoted as the "engine of growth" by this government. This sector is provided with tax benefits, tax holidays, tax waivers, special infrastructure at State expense for almost four decades for what governments call "development".

What has not been told by any government to date is how much the people, as tax payers, have funded these investors in trillions of rupees over decades and what the people had got in return.
This is how a report by Oxfam summed up that untold part of massive exploitation in a pre Davos exposure in 2016.

"Large corporations and those on the top play a key role in widening this gap. Super-rich people use a network of tax havens to avoid paying their fair share of tax, drive down wages for their workers and the prices paid to producers, and investing less in their businesses. They also use their connections to ensure that government policy works for them." [5 shocking facts about extreme global inequality and how to even it up in Davos /emphasis added]

Before this year's Davos meeting they wrote:
"Within the labour share, wage disparities have been growing. Wages in low-skill sectors in particular have been falling behind productivity in emerging economies and stagnating in many rich countries, while wages at the top continue to grow……In many developing countries where wage disparities are growing, the pay gap between workers with different skills and education levels is a key driver of inequality. Highly skilled workers with more education see their incomes rise, while low-skilled workers see their wages reduced. This gap accounts for 25–35% of income inequality in Asia."
[Oxfam briefing paper/p 03 – 2017 January / p- 13 emphasis added]
In much the same way crony businesses have far more leverage in deciding government policy of the present "unity" government than most urban middle class "hurrah boys," who believe they have access to President Sirisena and the Prime Minister.

In a society that helped a new-rich business community to emerge with political and State patronage in the export manufacturing sector, fly by night investors believe they don't have to adhere to labour and industrial laws in accruing wealth.

"We invest and we earn" is their set motto. "Management" for them is all about increasing profits. They thus prefer to run their factories without any trade union, employing labour through manpower agencies. Post war, there is therefore a trend in employing military officers as Human Resources Managers to force their form of "discipline" on workers.

What needs to be asked is, with all such written representations by trade unions to the Prime Minister, to the Labour Minister and most recently to the President, why cannot this government put a stop to these violations through management thuggery, in the most vital sector in the economy?
This government cannot and would not.

The very economic model and its policies lead only to accelerated inequality with brutal suppression of labour rights, within this Neo-Liberal global economy. "Workers on low incomes across the world continue to see their wages squeezed, particularly through global supply chains where suppliers compete to provide consumers with the lowest prices. Women are the hardest hit, as they are the most likely to work under precarious and low-paid employment" [ibid / p-17]

Thus this talk of creating wider space for democratic life under this "unity" government is simply a myth that holds over 2.34 million private sector workers out of the democratic equation.

This "democracy" is for the new rich crony businesses, funded by civil society groups and middle class professionals only, who believe they can also accumulate wealth if the status quo is maintained.

In plain language this "democracy" under this government is all about increasing inequality in society at the expense of good wages, worker rights and decent work.