---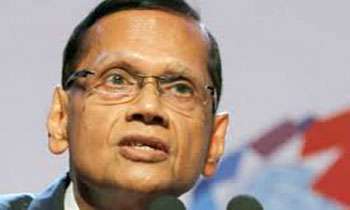 Sri Lanka Podujana Peramuna (SLPP) Chairman Prof. G.L. Peiris said today he would write to the newly appointed British Foreign Secretary Jeremy Hunt asking him to take decisive steps to call upon the UNHRC in Geneva to withdraw the resolution on Sri Lanka.
Prof. Peiris who is the former External Affairs Minister told Daily Mirror that Sri Lanka co-sponsored this resolution by the United States which was adopted on October 1, 2015. He said Britain played a major role in getting the support of the European Union member states to it.
"It has now come to light that the basis for this resolution is entirely flawed and based on facts which are untrue," he said.
He said it came to light after Lord Naseby, a prominent member of the House of Lords, revealed falsity of these facts based upon dispatches from the Defence Attaché of the British High Commission in Sri Lanka and the British Foreign Office, during the wartime.
"It is way off the mark," he said.
He said Neil Buhne who was in charge of UN operations in Sri Lanka had declared that the Sri Lankan security forces were acting to protect civilians.
"The coordinating committee that included the US, Japan and Britain declared that enough food and medical supplies were sent. Therefore, the resolution should not stand," he said.
Besides, Prof. Peiris said 70 MPs of the opposition would renew their call against Opposition Leader R. Sampanthan. He said 70 out of the 92 opposition members would sign the letter to be addressed to the Speaker in this regard. (Kelum Bandara)
Video by Sanjeewa