---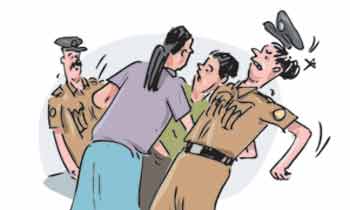 The Kobeigane Police said that four men and two women had been taken into custody after two parties who were ordered to come to the police station to sort out a domestic issue got into a fight as a result of a scurrilous pamphlet that had been pasted on the wall with regards to one of the women.
A mother of two had decided to get estranged from her businessman husband and had gone to her mother's place to stay. It was then that the scurrilous pamphlet was pasted on a wall leading the woman's family to lodge a complaint with the police. She told them she suspected her husband's family of trying to tarnish her good name by this act.
A Woman Police Constable (WPC) who had been present when the parties were called to the Kobeigane Police Station was injured in the scuffle that broke out and was admitted to the Kobeigane hospital. Police said that the woman who made the complaint, her father and brother had been taken into custody while the woman's husband, his brother and a another female relative of theirs were also arrested.
As these two parties could not be kept in one cell, the respondents' party had been handed over to the Nikaweratiya HQ Police.
The police said the condition of the hospitalized WPC was not serious. The six suspects were to be produced in the Nikaweratiya Court.
The Kobeigane Police is conducting further investigations into the incident led by SP Sanjeewa Bandara.