---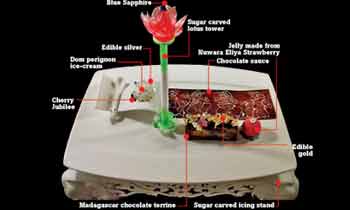 The Grand Hotel in Nuwara Eliya is already receiving orders and positive feedback for 'Marry Me', the Rs.3.8 million dessert, Chef Viraj Jayaratne told Daily Mirror.
Chef Jayaratne, who created the dessert, told Daily Mirror that many Sri Lankans living abroad had praised the efforts of the team of chefs at the Grand Hotel to promote the hotel and Sri Lanka.
He said the dessert was the result of a joint effort made by the hotel's chefs, the General Manager and other staff members.
Mr. Jayaratne said the concept was to promote Sri Lanka and the Grand Hotel in an era where hotels were mushrooming.
"Our hotel is one of the oldest in the country. The General Manager came up with the concept to grab the world's attention and to promote tourism in Nuwara Eliya. This is why we decided to invite star cricketer Kumar Sangakkara because he has done so much to promote Sri Lanka. There have been desserts in the past but nothing like this," he said.
Chef Jayaratne said the dessert was not a simple piece of chocolate but rather a number of add-ons and acute traditional carvings made using rare and expensive ingredients.
"The basis of the main dessert was 'Madagascar chocolate' imported from France. A pistachio sauce and a jelly made from fine Nuwara Eliya strawberry. We made an ice cream from French Champagne, Dom Pérignon. This champagne was also served to the guests. Chocolate sauce was served in the form of Kandyan dancers and it was made using a pin. A replica of the lotus tower, one of the upcoming icons of the country, was created purely from moulded sugar," he said.
The dessert comes with a naturally untreated or non irradiated blue sapphire, one of the rarest and expensive gems, found in Sri Lanka. The gem, he said, was certified by the Gem and Jewellery Authority of Sri Lanka as well as the gem certification authority of England. The gem was placed on top of the lotus tower.
"All these ingredients together completed the dessert which was served on a stand purely made out of parchment icing. The stand embodied with carvings which depict our heritage. Using parchment icing to create the stand made the task more challenging. At the end, no one can name a price on the effort put by the team and on the creativity. It took us seven days to put this dessert together. However, we are now confidant enough to undertake orders with a three-day prior notice," Chef Jayaratne said.
He did admit that there were criticisms by a few apart from the positive responses. "When we weigh responses, we have more positive feedback than that of negative. Even the negative responses, which were not many, helped promote the effort, the hotel and Sri Lanka," he said.
With the orders they have received, Chef Jayaratne said they will officially start making more 'Marry Me' desserts this year. (Lahiru Pothmulla)