---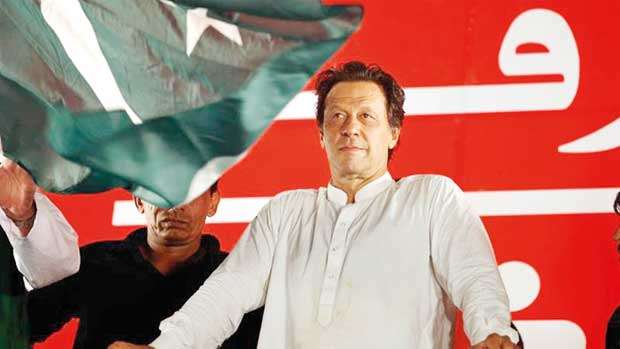 mran Khan's Pakistan Tehreek-e-Insaf on Saturday emerged the single largest party in Pakistan's 2018 general elections. The party won 116 seats, just short of simple majority (137) needed for a simple majority.
And Imran Khan - Pakistan's former cricket captain turned politician -- is set to lead Pakistan yet again... this time as its Prime Minister
The election result marks the culmination of a political struggle begun 22 years ago when he traded his popularity in the field of sports for the rough and tumble of Pakistani politics. His 'anti-corruption' crusade was initially scorned and he spent years on the political fringe.
But his determination never wavered.
The disputed general elections of 2013 marked a turning point in his political career. In August 2014 he led a 'Freedom March' of over 100,000 from Lahore to Islamabad staging rallies against alleged ballot rigging, claiming a conspiracy involving Prime Minister Nawaz Sharif's Pakistan Muslim League (N), senior judges, Punjab government officials and highlighted corruption in high places. The demonstrations called for the resignation of the government and demanding the holding of fresh elections.

Following the explosive 'Panama Papers' which exposed ex-Prime Minister Sharif and his family's role in a billion-dollar corruption scandal Imran Khan went to Court demanding Sharif's dismissal from office on corruption charges.
With Sharif's conviction and dismissal from political office, Khan's political stature grew by leaps and bounds. With 44% of the electorate aged between 18% to 35%, Imran's anti-corruption drive and calls to break the two main dynastic parties found mass support among young voters tired of the corrupt dynastic rule of the two main parties.

And so it was by Saturday despite earlier making charges of foul play, former Prime Minister Nawaz Sharif's PML-N conceded defeat to the former cricket star ahead of final results.
In the run up to the election, Imran portrayed himself as the outsider who would clean up Pakistan's dirty politics.
If in the days ahead if all goes smoothly it will be only the second time in Pakistan's history a civillian government will have been replaced via the electoral process.
The cricketer turned politician now poised to be the country's Prime Minister faces a multitude of problems.

Pakistan is awash with violence, religious extremism, dire poverty and a worsening economic situation. Its international relations are not the best. India and Afghanistan both charge it with exporting terrorism. The US has cut its aid. Imran himself has taken a harsh attitude to India, and has referred to Taliban's war against US presence in Afghanistan as a holy war.
In the aftermath of his election victory, Khan took on a more conciliatory attitude. Reaching out to India, he said he wanted talks to resolve the dispute over Kashmir. "if India takes one step towards us, we will take two steps towards them".

However promises of better relations with his giant nuclear-armed neighbour are going to depend on Pakistan's military, which has been responsible for coups and instigating movements which brought down elected leaders who espoused better relations with India.
Compromises will have to be made.

Imran had the ability to weld Pakistan's individually great cricketers into a world cup winning outfit. Perhaps the great Khan has possibly the best chance to unite his country and ease its divisions.
To Imran's eternal credit also stands the the magnificent cancer and cancer research hospitals in Pakistan costing billions of dollars which provide free treatment to Pakistan's desperately poor masses. It was his single-minded perseverance and honesty which drew in the funds and brought the project to fruition.

While wishing Pakistan's new political captain the best, his victory and challenges ahead are best summed up in the tweet from his first wife Jemina Khan "...my sons' father is Pakistan's next PM. It is an incredible lesson in tenacity, belief and refusal to accept defeat. The challenge is now to remember why he entered politics in the first place..."