---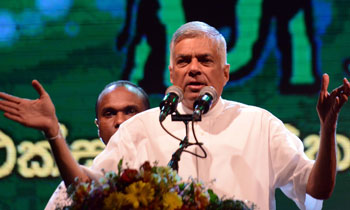 Prime Minister Ranil Wickremesinghe who wound up the UNP campaign for the local government election in Maradana last evening urged the people not to lose what they achieved in January 2015. He also told the UNPers to get ready to form a government in 2020.
"If you want us to form the government in 2020 you will have to go and vote on Saturday. Don't lose what you achieved in January 2015. If you vote for us on Saturday we will be able to form a UNP government in 2020 and work towards securing power in 2025 as well," he said.
The Prime Minister requested the people vote wisely on Saturday and to make sure the polling was free and fair. "This year's local government poll campaign has been free and fair. There have been no reports of lives lost, arrests and instances of public property being misused thus far. Even I was not allowed to attend any openings," he said, pointing out that the elections commission has become more powerful than the President and the Prime Minister.
Additionally, he said no journalists were killed or attacked while there are no incidents of burning media establishments today although the government is criticized. "Don't allow this freedom to be taken from you and use your vote intelligently," he told the people. The Prime Minister also pledged to bring about financial stability in the country. He said the economy was on the way to recovery.
Mr. Wickremesinghe ended by reminding those present about something he had been stressing on right throughout the polls campaign and that was to be sure to ensure that the local government bodies and the central government is run by the same party from now on.
UNP Mayoral candidate for the Colombo Municipal Council (CMC) Rosy Senanayake said President Maithripala Sirisena should not forget the final rally that was held during the Presidential Election campaign."It was Prime Minister Wickremesinghe who went and brought Mr. Sirisena forward when he was still at home after his bodyguards were taken from him," Ms. Senanayake said.
UNP MP Mujibur Rahaman expressed the same sentiment while adding that UNPers should get ready to form a new government in 2020 when the term of the incumbent ends. "The President may not be aware that the mayoral candidate fielded by his party is also facing corruption charges," he said. (Yohan Perera)