---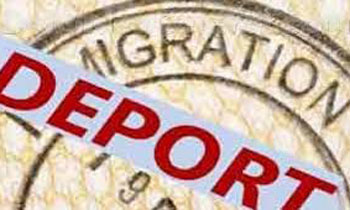 Twenty six Sri Lankans, deported by Australia and Switzerland arrived at the Bandaranaike International Airport (BIA) this morning, BIA sources said.
The 26 Sri Lankans had gone to Australia and Switzerland illegally.
"15 Sri Lankans were sent to the BIA at 6.20 this morning from a special flight from Australia, while another eleven Lankans arrived at the BIA at 9 this morning from Switzerland by special fight," an official said.
A large group of security personnel from these countries were also present on the aircraft. A spokesman from the Immigration and Emigration Department said several Sinhalese and Tamil persons were among the people who were deported.
The deportees were released after recording statements by the Criminal Investigation Division (CID) officers at the airport. (T.K.G. Kapila)