---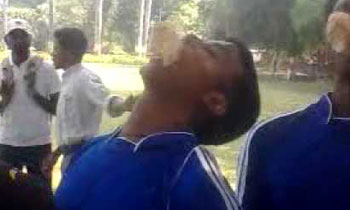 A 42 year old man admitted to the Balapitiya Hospital after he swallowed the thread along with a bun in an eating competition, was reported to have run away from the premises due to embarrassment, hospital sources said.
Officials said the patient was extremely embarrassed when he was visited by other patients and staff members of the hospital to observe his condition.
The patient had attended a New Year festival organized for foreigners at a hotel in Kosgoda.
Hospital sources said the patient had gone missing after doctors decided to perform a surgery to remove the thread lodged in his chest.
Doctors had made the decision after attempts to dislodge the thread by making the man drink a large quantity of water had failed. (M. Susil Priyantha)