---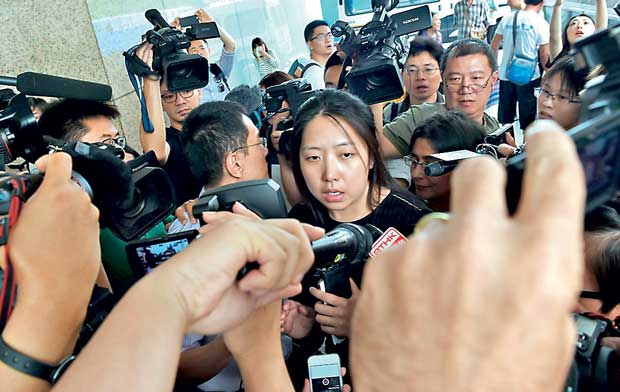 A representative (C) from Malaysia Airlines speaks to the media outside the Malaysia Airlines' office in Beijing​


AFP - Chinese relatives of passengers aboard missing flight MH370 expressed anger and disbelief yesterday, after Malaysia's prime minister said wreckage found on a French Indian Ocean island was from the plane.

Most of the passengers aboard the flight were Chinese, and around a dozen of their relatives gathered outside the Beijing offices of Malaysia Airlines, with emotions running high.

"I don't believe this latest information about the plane, they have been lying to us from the beginning," said Zhang Yongli, whose daughter was on the plane.
"I know my daughter is out there, but they won't tell us the truth," he added, waving Chinese and Communist Party flags.

The flight, with 239 people on board, vanished en route from Kuala Lumpur to Beijing in March last year, and authorities said it crashed in the southern Indian Ocean.

No physical evidence had been found until the debris, part of a wing known as a flaperon, washed up on the French territory of Reunion, and Malaysian Prime Minister Najib Razak said early yesterday it was from the jet.

In a handwritten statement posted on Chinese social media and signed "All MH370 passengers' relatives", a number of those with missing loved ones expressed "serious doubts" over Najib's announcement.

They demanded that a high-level Malaysian government representative meet them and "provide explanations".

China's foreign ministry said Najib's declaration "confirmed the verdict on the Malaysia Airlines accident", expressing "deep grief" for the passengers.
"We ask the Malaysian government to fulfil their promise to continue investigating the reason for the accident," spokeswoman Hua Chunying said.

Many Chinese relatives of MH370 passengers have consistently expressed beliefs that their loved ones are alive, perhaps being held at an unknown location, despite the mounting indications of a fatal crash.

Several of those at the airline office held signs with a picture of an airplane, reading: "It will surely return safely".

Bao Lanfang, whose grandson was on board, told reporters, "Everyone has been lying to us", before collapsing on the floor and crying.

"I will do anything to see him again," the 63-year-old added through her tears. "Just tell me what I need to do, I'll do it."

French officials who analysed the wreckage said only that there was a "very high probability" it came from MH370 and Wen Wancheng, whose 34-year-old son was on board, noted: "The French examiners were instead very cautious. They haven't drawn a conclusion.

"How can you jump to the conclusion that the plane has crashed simply on the basis of a single piece of debris? It could be pulled from other aircraft," he told AFP.

On a social media group other relatives expressed similar sentiments, saying: "Don't believe them! They must have switched the debris! We do believe all our relatives will come back safe and sound!"

There was a heavy police presence outside the airline's office to greet the relatives, who say they have faced repeated harassment from state security.
Elsewhere Chinese people took to social media sites to express scepticism about Malaysia, whose reputation has taken a knock in China for its handling of the incident.

"Malaysia wanted to avoid the large amount of payment for the relatives so it announced that it found the debris in Reunion and that the airplane crashed accidentally. We don't believe Malaysia," one comment on the Twitter-like Sina Weibo read.