---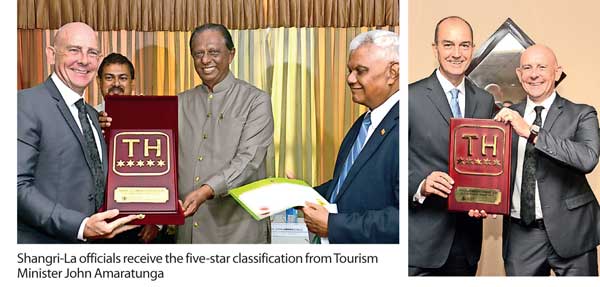 Shangri-La's Hambantota Resort & Spa was awarded a five-star rating at a ceremony held to award star classification for tourist hotels in Sri Lanka. Organised by Sri Lanka Tourism, the ceremony was held recently at the Sri Lanka Institute of Tourism & Hotel Management (SLITHM).

The event was graced by Tourism Minister John Amaratunga, who was also the chief guest on the occasion. Other prominent industry officials, namely, Sri Lanka Tourism Development Authority & Sri Lanka Tourism Promotion Bureau Chairman Paddy Vithana, Sri Lanka Tourism Development Authority Director General Malraj Kiriella, Hotel Classification Chairman Tissa Warnasuriya and the senior management representatives of hotels were also present at the ceremony.

Shangri-La's Hambantota Resort & Spa opened its doors on June 1, 2016 and with this five-star classification, joins the Shangri-La group's other distinctive five-star properties around the globe.
Speaking on the occasion, Amaratunga said, "We greatly appreciate the contribution of the hotel industry to tourism and this ceremony recognizes their efforts for attaining the certificate of excellent standards. High-end tourists expect high standards and by classifying hotels, we offer them an assured product. By the end of December 2016, Sri Lanka should reach its target of 2.2 million tourists, which is a promising development for the tourism industry.

The government is looking closely at the tourism sector as a key industry to stimulate the economy. Our commitment has led us to combat shortage of staff by training youth in greater numbers to meet the demand for human capital as new hotels are launched. We invite the private sector also to participate in public-private partnerships in training and developing human resources to ensure a sustainable future for the industry."

Vithana commented, "I would like to reiterate confidence in tourism as a vital growth industry. Sri Lanka has a lot to recommend it as a dream destination and an event such as this further strengthens our tourism product. We are proud to award these star-class certifications and congratulate the management of all the hotels being recognized at this ceremony."

Shangri-La's Hambantota Resort & Spa is located beside the Indian Ocean and framed by swaying king coconut trees and 145 acres of tropical gardens, offering luxury of space for guests to unwind within the spectacular surroundings and make the most of the impressive facilities. Most notable include CHI, The Spa, which focuses on Ayurvedic treatments, three swimming pools, an 18-hole golf course, a unique artisan village celebrating local arts and crafts and an array of al fresco dining options. Shangri-La's Hambantota is in close proximity to some of the country's finest nature and wildlife reserves, including Yala and Bundala National Parks. Hong Kong-based Shangri-La Hotels and Resorts currently owns and/or manages 98 hotels under the Shangri-La brand with a room inventory of over 40,000. Shangri-La hotels are five-star deluxe properties featuring extensive luxury facilities and services and are located in Australia, Canada, mainland China, Fiji, France, Hong Kong, India, Indonesia, Japan, Malaysia, the Maldives, Mauritius, Mongolia, Myanmar, Philippines, Qatar, Singapore, Sultanate of Oman, Taiwan, Thailand, Turkey, the United Arab Emirates and the United Kingdom. The group has a substantial development pipeline with upcoming projects in mainland China, Cambodia, Hong Kong, India, Malaysia, Myanmar, Saudi Arabia and Sri Lanka.