---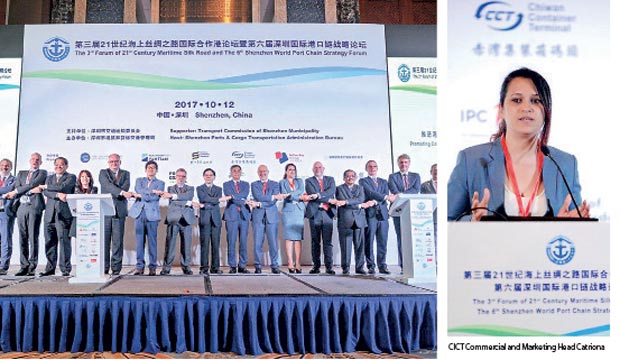 The pivotal role played by the Port of Colombo in global trade and its contribution towards the betterment of the South Asian region was the focus of a presentation made by Colombo International Container Terminals (CICT) recently at an international forum in Shenzhen, China.

The presentation was made by CICT Commercial and Marketing Head Catriona Jayasundera at the 3rd Forum of 21st Century Maritime Silk Road and the 6th Shenzhen International Port Chain Strategy Forum which was part of the 12th annual China (Shenzhen) International Logistics and Transportation Fair (CILF).

Her presentation, during the second section of this forum at Asia's leading logistics and transportation fair was titled 'Port of Colombo – The Pivotal Point of Global Trade.'

Among other panelists alongside Jayasundera were senior representatives from Rocky Mountain Institute, USA; Port of Antwerp, Belgium; Port of Taranto, Italy; Incheon Port Authority; and Port of Gdansk, Poland.

Jayasundera also signed the 'Shenzhen Declaration 2' on behalf of CICT. The declaration contained guidelines for and a consensus on promoting collaborative innovation of port technology and services, and for strengthening cooperation in port chains. Commenting on the company's participation in the forum, CICT CEO Ray Ren said: "As an integral part of the Port of Colombo, CICT has always focused on promoting the strengths and strategic location of the port to global players. We use every opportunity available to raise awareness of what Colombo has to offer, and this presentation reached a very influential audience."

This year's forum was organised by the Ministry of Transport of the PRC, the Shenzhen Municipal People's Government, and Shenzhen Logistics and Supply Chain Management Association.