---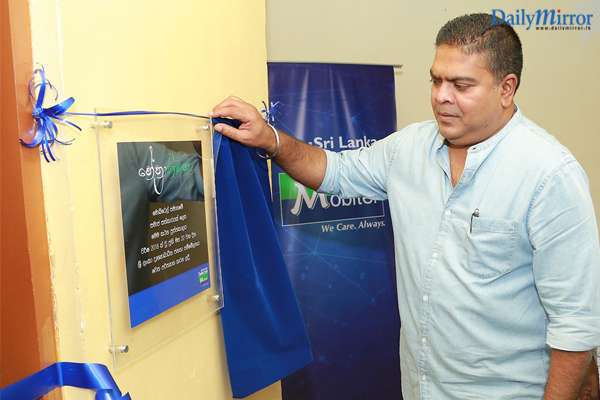 Nalin Perera - CEO, Mobitel declares open the voice library
Mobitel, through its Nethrabhimana initiative, launched a voice library recently. Upon completion of the project, it was entrusted to the Sri Lanka Federation of the Visually Handicapped under the patronage of Mobitel CEO, Mr. Nalin Perera.
Last Vesak, Mobitel once again demonstrated its commitment to their well-known slogan 'We Care, Always' by showing that every Sri Lankan matters and successfully enabled the visually handicapped to experience the joy of Vesak celebrations. By combining one of the oldest methods of communication, storytelling, with modern technology on an Interactive Voice Response (IVR) platform, Mobitel enabled users to listen to the captivating stories of five prominent Vesak Pandols on display in Colombo. This heartwarming initiative effectively bridged the gap which previously prevented the visually impaired community from experiencing the splendor of Vesak in the comfort and the safety of their homes.
An incredible venture, a voice library for the visually handicapped can be utilized as a platform to enhance and enrich the lives of such individuals. Mobitel embraced this opportunity and subsequently set to work to complete the task. Following the undeniable success of phase one, the creation of the voice library was incorporated into the second phase of the initiative. As such, the voice library was developed at a request made by the late Hony. President of the Sri Lanka Federation of the Visually Handicapped, Mr. NawarathneMudiyanse,along with those who participated in the Nethrabhimana project last Vesak.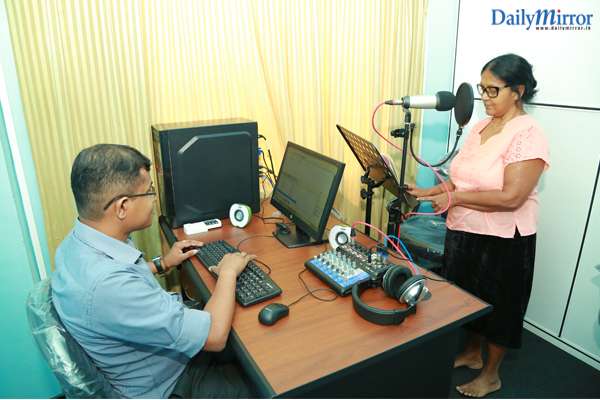 M Jayasundara – Treasurer, Sri Lanka Federation of the Visually Handicapped commented saying, "As a teacher I am very thankful towards Mobitel for joining hands with us to provide the visually handicapped the facilities required to learn to read. This project will no doubt be successful in encouraging this community to pursue academic endeavors".
ChameeraPubudu Kumara – Secretary, Sri Lanka Federation of the Visually Handicapped commented saying "The digital voice library provided by Mobitel, was absolutely essential and valued by the visually handicapped community. To translate a book in to braille, is a time – consuming task, an audio book on the other hand, can be listened to on any device. We are grateful to Mobitel for providing the community an easy method for to access more reading material"
Dilani Sandamali – A beneficiary of the project commented saying "Today I am very happy as someone who belongs to the visually handicapped community. For my education I am required to read a lot, and I face many difficulties to read assigned books, as I required either get the help of someone else or find a braille version of the assigned book. Today Mobitel has provided us a digital voice library that gives me the freedom to listen to any book with ease"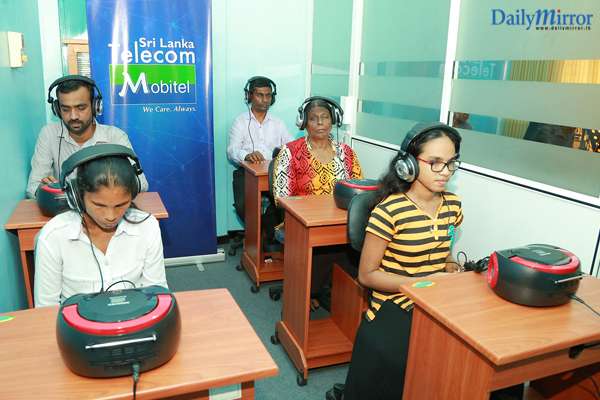 Mobitel set out to collect the sum required for the project by seeking the involvement and donations from the public and matching every donation made, one for one. By engaging with the public in this manner, Mobitel has activated customers across the island to collaborate with this initiative in providing a pivotal service to the blind. As the contributions increase, the project is able to touch more lives as the National Service Provider continues to match each contribution. To extend this facility you too can donate via voice or cash donations. Customers are urged to send a SMS to 6352, the cost of an SMS is Rs. 100 /-