---
Most Green Diyawanna members supporting the new Punchi Dasa-led alliance are said to be calling on the party's city stalwart to ask him to throw his full weight behind the alliance. Some of them are said to be those who have had a good time in the past at the city stalwart's expense.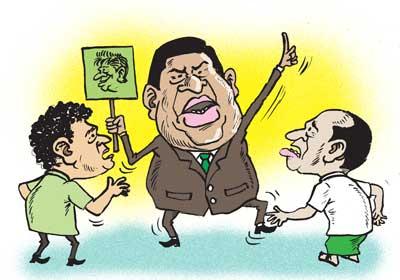 A blabby politico from Uva and the one from Ratnapura, who is talking a lot about 'jumpers' were among those who had recently called on the city stalwart of the party.

The city stalwart had tongue-lashed those who called on him saying: "I am not with those trying to split the party. Nor do I think that I will have a successful political journey along with a person who lost the big race. Having lost the race, he appears to be bent on destroying others politically…" he had added: "He ought to know that no matter what plans he is making now; he would finally have to dance to the Lokka's drumbeat!"

The city stalwart who is now only an 'Assistant' had also indicated that he would be soon raised to 'Deputy' status. And he already behaves as someone who commands a great measure of authority in the party, they say.