---
Hyundai has announced a major sponsorship deal with the National Football League (NFL).

The Kore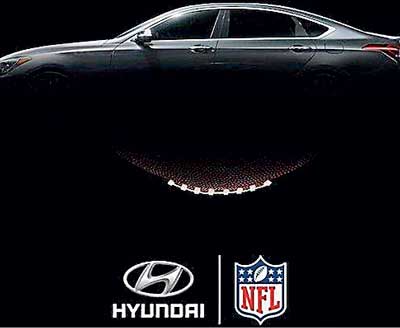 an brand has inked a four-year deal with the NFL that will allow them to use NFL trademarks in their advertising, along with gaining preferred marketing access to big events such as the SuperBowl and NFL Kickoff.

GM was the main automotive sponsor of the NFL from 2001 to 2014. The deal saw GM pay at least US $ 25 million a month, though it is reported that the brand spent an average of US $ 150 million a month on NFL-related advertisements and marketing. Financial details on Hyundai's new deal were not disclosed.

"We are pleased to welcome Hyundai to our family of sponsors," said NFL Senior Vice President Sponsorship Renie Anderson.

"We appreciate Hyundai's enthusiasm as we work together to reach our fans with innovative programmes during our season and with our major calendar events throughout the year."

Hyundai's presence in the NFL will officially launch during NFL Kickoff activities on September 10.