---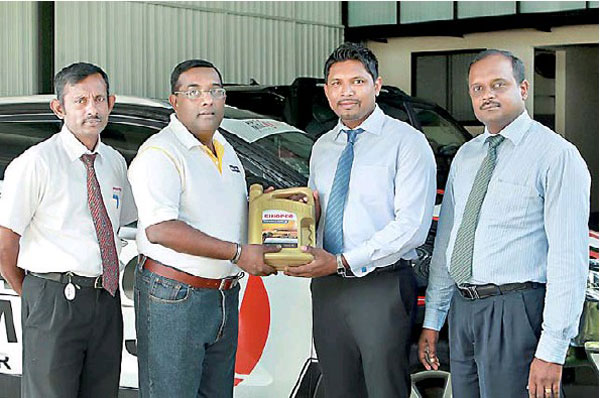 Sinopec, the third largest company in the world, introduced its newest product to the Sri Lankan market, the Singapore factory product - Sinopec Justar 10w40 lubricant, recently.At a ceremony, Auto Miraj Managing Director N. Chandramohan was handed over Sinopec Justar lubricants by Sinopec Lubricants General Manager Ushan Wijewardena and other senior officials.

"Automiraj vehicle service centre chain is a place where best services are provided to vehicle owners in Sri Lanka. The unbreakable bond between Automiraj and Sinopec Lubricants will assure the highest quality services are provided for the vehicle owners," Sinopec Lubricants General Manager Ushan Wijewardena said.Automiraj Managing Director N. Chandramohan said t hat the Automiraj service centre chain is partnered with Sinopec Lubricants for an unparalleled service experience for Automiraj customers.

"The introduction of Sinopec Justar, which is specially made for petrol vehicles, maintaining superior quality, is definitely a very good news for the vehicle owners. The new Sinopec Justar will be available at every Automiraj service centre," added Chandramohan.The new Sinopec Justar is specially made for the use of petrol vehicles, helps extend engine life by reducing engine wear and is produced according the highest levels of international standards.

Sinopec Justar ensures smooth running of petrol engines, ensuring high mileage while protecting critical engine parts under extreme circumstances, saving maintenance costs.Sinopec, China's largest producer and supplier of refined oil products were picked as the third largest company in the world by Fortune 500 magazine in the year 2014.Based i n Beijing, China, it is listed on the Hong Kong share market and also trades in Shanghai and New York.

In addition to Sinopec Justar 10w40, Sinopec's product line includes various types of gasoline, diesel, jet fuel, etc., and a number of petro chemical products.
Sinopec Lubricants is a ISO 9001, ISO/TSI6949, ISO 14001, OSHAS 18000 and AS 9100 certified production giant and blends to API/ACEA/ DIN/HSE/JASO standards and maintains kaizen and Total Quality Management.The Sinopec Justar, 10w - 40 manufactured at Sinopec's latest high-tech production facility in Singapore, is available at every service station and sales point under the Sinopec dealers' chain islandwide at affordable prizes.