---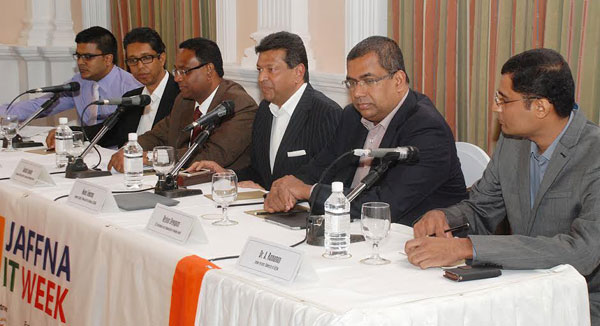 The 'Jaffna IT Week', scheduled to be held from 3 to 6 December 2014, is an industryinitiative for inclusive growth and reconciliation, driven by SLASSCOM, and supported by the Export Development Board (EDB), Information and Communication Technology Agency of Sri Lanka (ICTA), Ministry of Education (MOE), University of Jaffna and the Yarl IT Hub.
The aim of this initiative is to literally take the IT/BPM sector to the developing north of the country. From budding entrepreneurs to keen undergraduates to young school children still choosing a career path, this event will reach out to everyone, and will be the starting point of similar initiatives in other parts of Sri Lanka.
Building regional ICT capacity is necessary for inclusive growth and the IT/BPM industry can assist greatly in reducing regional disparity in economic growth. Sri Lanka's IT/BPM sector has taken less than 15 years to become the country's fifth largest exporter. In 2013, export revenue grew to an estimated US$ 720 million, total employment increased to 33,700 and companies in the industry now stand at over 220.
Today, the Western Province contributes over 95% of IT/BPM exports. The creation of 'Second Tier Cities' will empower regions and would see a paradigm shift from being Colombo-centric to regional-centric IT development. Furthermore, it has been identified that the proliferation of ICT in provincial regions is the fastest way of developing PR: Thanzyl Thajudeen/Mark & Comm Pvt Ltdmarginalised areas.
The concept of 'IT Weeks' will promote the creation of second tier cities and lay the foundation on which further development can take place. Jaffna, Kandy and Hambantota have shown potential to be developed as regional hubs, given the infrastructure already in place, current and planned development, and their capacity to generate skilled workforces (through existing schools and universities), etc.
In Jaffna, over four days, the Jaffna IT Week will feature key Government stakeholders and Sri Lanka's top IT industry thought leaders and tech entrepreneurs. It will be a significant event, not only for the promotion of IT in Jaffna but also in terms of bridging the digital divide and bringing about reconciliation.
The four-day event will firstly consist of a two-day 'Future Careers' exhibition organised by ICTA, SLASSCOM and Ministry of Education which will be held on 3 and 4 December, targeting schoolchildren to educate them about the IT/BPM industry, both globally and locally, and open their eyes to the wide range of possibilities and job opportunities available within the sector.
This will be followed by a one-day workshop on ICT exports/entrepreneurship on 5 December, sponsored by the EDB, targeting would-be entrepreneurs and businesses. The Week will wrap up with the Jaffna IT Conference on 6 December, hosted by the University of Jaffna, for IT undergraduates of State universities all across the island. It will feature a line-up of some of Sri Lanka's leading personalities in the IT/BPM sector and aims to expose the undergraduates to the core of Sri Lanka's IT industry, and to open up avenues and opportunities that were previously hard for them to access.
For more information, please visit www.jaffnaitweek.com