---
The HNB open day for Urban Homes Fairway Koswatta was held recently with the participation of the prime customers of the bank where attractive interest rates were offered by the bank to the customers who availed themselves of this opportunity. On its part, Fairway Holdings offered price discounts, special packages on Fairway Koswatta and early bird deals.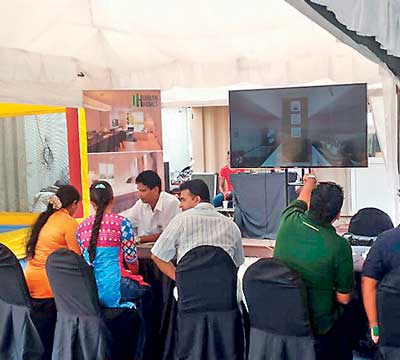 Commenting on their experience of the day the HNB prime clients who participated were of the view that Fairway Koswatta contained comforts and conveniences in an urban neighbourhood with easy access to Schools, Hospitals , Universities and within easy reach to the other parts of the City. They also appreciated HNB for according this additional service of arranging for them to visit the project site and learn more about the development in detail
The Fairway Koswatta -Urban Homes Team together with HNB Branch Managers and Head Office officials from Personal Financial Services Division were in attendance to answer questions from HNB prime customers and those who randomly walked in upon hearing of
this initiative.