---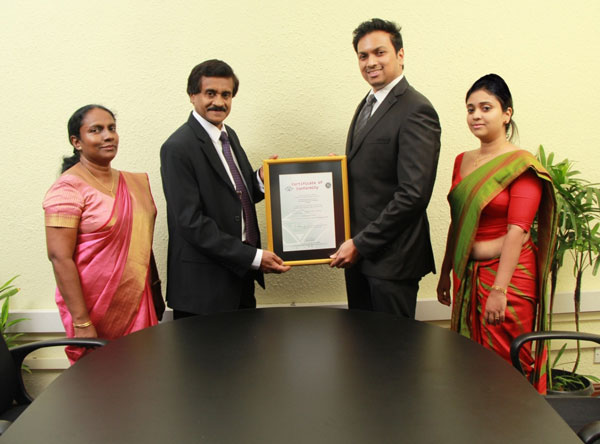 Image 1: (Left to right) S. U. Narangoda - Director of Sri Lanka Standards Institute and Gamini Dharmawardena - Director General of Sri Lanka Standards Institute presenting the certification to Dr. Hiran Hettiarachchi - Group Chairman of Blue Mountain Group of Companies and Praneetha Navaratne - Head of Research & Development/ISO Management Representative of Blue Mountain Properties (Pvt) Ltd.
Blue Mountain, the leading real estate major in Sri Lanka, has received the ISO 9001 International certification for Blue Mountain Properties (Pvt) Ltd., the land arm of the Blue Mountain Group of Companies. As one of the few real estate companies in Sri Lanka to acquire this certification, Blue Mountain Properties demonstrates the Group's dedication to offer the highest standards of quality to its customers, while gaining respect from both its existing and prospective customers. The company's compliance with global standards and adherence to a professional approach has helped to distinguish Blue Mountain Properties as a reliable and innovative real estate company which places its customers at the heart of its operations.
The ISO 9001 certification communicates the fact that its existing systems and processes have complied with all applicable statutory and regulatory requirements. The aim of acquiring this certification was to enhance the value of 'Quality' in every aspect of the company's products and services, encompassing land sourcing, land development, communication, customer service and documentation aspects. In a bid to clearly position itself as a professional, full service real estate company, Blue Mountain Properties is driven by certified and proven systems and processes in a manner whereby its entire operation is aligned accordingly in order to deliver quality service to customers. Blue Mountain Properties has achieved the pinnacle of success within a mere six years of operations, positioning it to win multiple prestigious local and international awards since inception.
Commenting on the conferral of the certification, Dr. Hiran Hettiarachchi, Chairman of the Blue Mountain Group said: "We are delighted to fulfil all the required stipulations to acquire the world-renowned ISO 9001 certification. Blue Mountain is leading the local property development sector in Sri Lanka and we intend to consolidate our position by offering professional services to our customers and benchmarking the industry."
Blue Mountain is a full service real estate company in Sri Lanka which has diversified operations spanning across land sales, apartment development and construction. The company is one of the most trusted and reliable real estate entities in the country, and has made inroads into high-tech information systems, becoming the first ERP-based real-estate business in the country.
Blue Mountain is a pioneer in conceptualizing and executing a profusion of urban and rural real estate projects ranging from luxury residential plots to commercial properties & creating state of the art condominium/apartment living spaces. The company focuses on delivering excellence through innovative design, superior standards of construction, customer service and community values.