---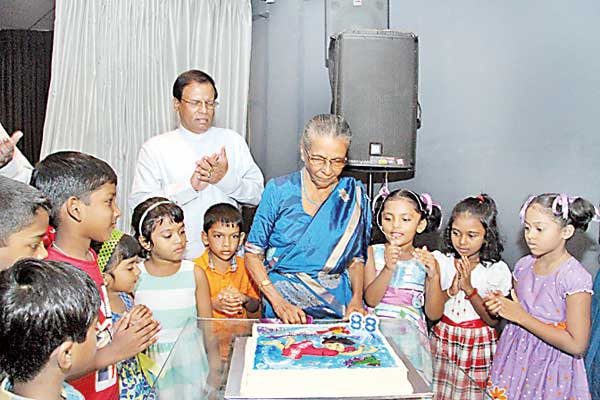 pix by Waruna Wanniarachchi
Five stories of veteran Sri Lankan children's author released
By A child's world is innocent and full of colour and imagination. They live in a world of their own, curious to learn new things, and fascinated by colourful objects and experimenting with what they get. It is from these elements that a child gradually learns about nature and the world around him.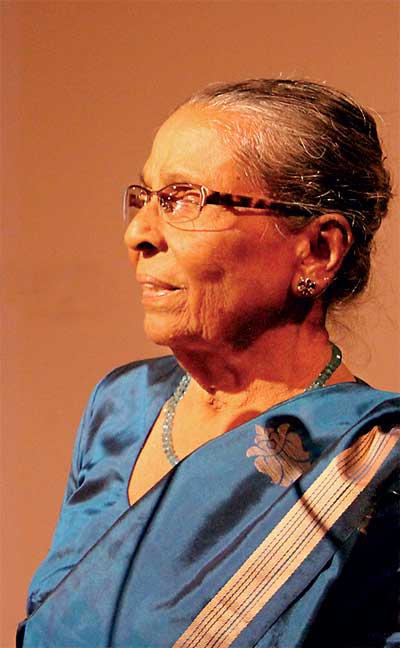 Children's literature too, plays a crucial role in bringing up a child's personality, creativity and intelligence. In the modern world, we hardly see any storytelling in the way which might attract children, though there is children's literature.

Technology and reality TV shows seem to have invaded the world of children today, making them lose that innocence and creativity and turning them into machines.

When we recall our childhood, one character that we cannot forget is Sybil Wettasinghe, who used to keep us happy with her amazing, yet simple stories, with her iconic illustrations.

Years after, it remains the same, for she still has managed to keep her position in the children's literary field. This was made a reality with her latest book, launched under the patronage of President Maithripala Sirisena and amidst a distinguished gathering including the Managing Director of MD Gunasena Ltd, Rajiv Gunasena, other high officials, veteran artistes, media personnel and those who represented other respective fields, at the MD Gunasena Auditorium in Colombo, recently.

The event was held on Sybil Wettasinghe's birthday and was organised by MD Gunasena Ltd. The veteran and internationally renowned children's author and artist turned 88. A special birthday cake was cut to mark the occasion.

It was a packed audience indeed with parents, children and teachers whereas there were also a few notable artistes such as Nanda Malini, Niranjala Sarojini, and veteran presenter Sumana Jayathillake. The event started with a musical narration of one story done by a child artiste, while the screen showed pictures related to the story.

During his speech President Sirisena said he was happy to be present at such a wonderful occasion and said that Sybil Wettasinghe was always appreciated by children.

"Modern technology contains a lot of unsuitable things for children at the same time it is important to gain knowledge and information. Her creative, literary work has always been appreciated by everyone. As an encouragement to develop children's literature, there should be more upcoming authors and literary works," he said.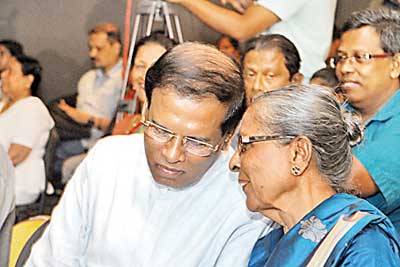 The President said that her work would be even more appreciated in the years to come.

The collection included five books such as Naanna giya yaluwo, Amuthu saddayak, and Pidurupala.

Veteran actor Jayalal Rohana also made a speech saying that he had to face a lot of challenges from her younger days, coming from a remote area in the South. "Those who won the world had to go through a lot of barriers and obstacles. But there are only a few who dedicated themselves for children. Her talent for mixing colours attracts children," he said.

He said that sometimes she said that we had to see with the children's eye to understand them.

According to Jayalal Rohana, reality shows had ruined children and children's literature and that the children's drama festivals had also been ruined. The five books were presented by the Managing Director of MD Gunasena, Rajiv Gunasena.

Speaking at the occasion Sybil Wettasinghe said that it was in 1956 that she wrote her first book Kudahora, which was translated into many other languages. She said that when her daughter as a child wouldn't eat, she wrote Uda giya baba.

According to her when she wrote a story, she lived the story.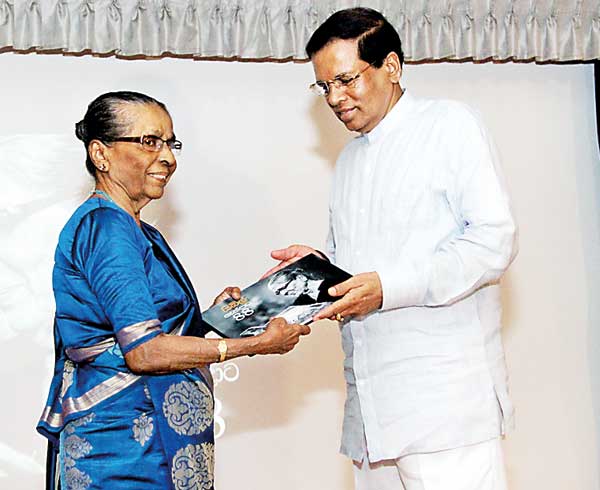 "I'm still like a child. I have a child's mind. We don't need awards. But the appreciation we get from children is much better," she said. Messages sent by various artistes, musicians, and academics were read out at the occasion.


Percy Jayamanne and Samanmalie Padmakumara also delivered speeches. It was a much valued moment which everyone had, enjoying the colourful world of children's literature. When authors like J.K Rowling and Roald Dahl dominated international children's literature, Sybil Wettasinghe, fondly known as Sybil aththamma continues to add colour to the world of children with her amazing and iconic story telling.