---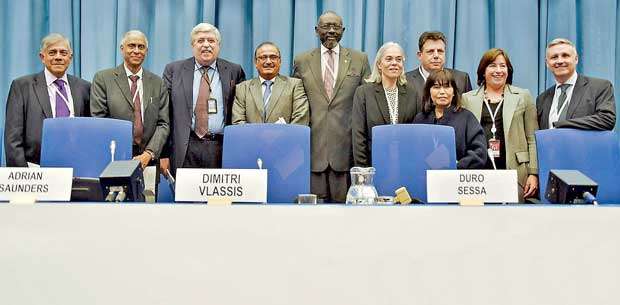 After two years of planning, seven regional preparatory meetings and consultations with some 4,000 judges, the United Nations Office on Drugs and Crime (UNODC) launched its Global Judicial Integrity Network this week in the presence of Chief Justices, senior judges and judicial professionals from around the world. The two-day launch gave over 350 attendants the opportunity to discuss key topics with peers from other Member States, and to present recommendations on strengthening judicial integrity at the global level.

The network is a platform for judges to share good practices and lessons learned, to support each other and to join forces in developing new tools and guidelines for strengthening integrity and preventing corruption in the judicial system. As such, it will also provide access to a large online database featuring thousands of resources, good practices and other judicial documents for immediate reference.

Participants were greeted by a video message by Amina J. Mohammed, Deputy Secretary-General of the United Nations, saying: "This network brings together lead institutions responsible for upholding the rule of law, and as such for attaining peace and justice." Her welcome remarks were echoed in UNODC Executive Director Yury Fedotov's message, who added: "Judges need the opportunity to share experiences, exchange good practices and support each other. The network will continue to serve as a resource for addressing new and emerging challenges, such as those posed by social media and other technological developments."

Chief and senior justices from Austria, Brazil, Lebanon, Malaysia, Nigeria and the United States addressed the opening session, declaring their support for the network. Chief Justice Walter Samuel Nkanu Onnoghen of Nigeria stressed that the network could not have come at a better time, adding: "It is time to develop global measures and mechanisms for the attainment and sustenance of the prescribed integrity. Accepted global standards and measures have persuasive force. They empower national champions of judicial integrity, providing ready tools and weapons."

Justice Elisabeth Lovrek, Vice-President of Austria's Supreme Court, which co-hosted with the Supreme Judicial Council of Qatar a social event at the beautiful Palace of Justice in Vienna, found the platform's very launching in Vienna to be a positive indicator: "The network will strengthen judicial cooperation among courts and tribunals from different legal and cultural traditions. In an increasingly globalised world, this is more important than ever."
The network is a platform for judges to share good practices and lessons learned, to support each other and to join forces in developing new tools and guidelines for strengthening integrity and preventing corruption in the judicial system

In addition to the representation from numerous judiciaries from around the world, there was strong support and participation from global institutions and judicial associations. The first plenary session on the network's specific role in promoting judicial integrity was addressed by Diego García-Sayán, United Nations Special Rapporteur on the Independence of Judges and Lawyers, Christophe Régnard, President of the International Association of Judges, and Judge Rudolf Mellinghoff, President of the Federal Court of Finance of Germany and Member of the Judicial Integrity Group, which is the group of judges that initiated the dialogue on corruption in the justice system in 2000 and developed the Bangalore Principles of Judicial Conduct.

This first gathering of the network spent the better part of two days discussing and seeking solutions for some of the key challenges confronting judiciaries today; this included undue political interference by the executive and legislature into judicial appointments and decisions, reducing budgets in the face of exploding caseloads and corruption in the justice sector and diminishing public confidence. Substantive thematic breakout sessions covered an array of measures to help judiciaries tackle those challenges, such as developing codes of conduct, establishing functioning disciplinary bodies and proceedings, balancing accountability and independence, assessing integrity in the justice system, introducing financial disclosure rules for judges, educating judges on the use of social media, enhancing transparency and the impact of digitalization on judicial integrity, judicial appointments and judicial training.

Speaking at the closing session, David Maraga, Chief Justice of Kenya, commented: "This launch gives us an opportunity to keep reflecting on our performance because it means a lot to our various countries. The buck stops with us, especially those of us who are in leadership."

The participants endorsed, by acclamation, the Terms of Reference of the Global Judicial Integrity Network, which outline its mission statement, objectives, participation and organisation of work. The terms also specify the role of the Secretariat (carried out by UNODC) and that of the Advisory Board, which will help identify priority challenges and emerging topics in judicial integrity and assist judiciaries in addressing those challenges as they arise. The first members of the board, elected by the Secretariat based on their active engagement in advancing judicial integrity, are:

Adrian Saunders: President-elect of the Caribbean Court of Justice, Chairman of the Caribbean Association of Judicial Officers
Duro Sessa: President of the Supreme Court of the Republic of Croatia, President of the Consultative Council of European Judges
Masood Bin Muhammad Al-Ameri: Chief Justice of the Supreme Judicial Council, Qatar
Maria Theresa Moura: Minister of the Superior Court of Justice in Brazil, Director-General of the Brazilian National Magistrates School
Zainun Ali: Judge of the Federal Court, Malaysia
KashimZannah: Chief Judge, High Court of Borno State, Nigeria
Nihal Jayawickrama: Coordinator of the Judicial Integrity Group

Jose Igreja Matos: Judge, Court of Appeal, Porto, Portugal, President of the European Association of Judges, and Vice President of the International Association of Judges.

Lynne Leitch: Justice, Ontario Superior Court of Justice, Representative of the Commonwealth Magistrates and Judges Association, Chair of the Association's Gender Section

Diego Garcia-Sayan: UN Special Rapporteur on the Independence of Judges and Lawyers

The conference concluded with the adoption, by acclamation, of the declaration on judicial integrity and the invitation by Masoud Mohamed Alameri, Chief Justice of the Supreme Judicial Council of Qatar, to hold the network's next conference in Qatar. Addressing the participants, Chief Justice Alameri stressed: "We should remember that our efforts are of historic value to us, as it will be the first purely judicial project connecting and bringing together the world's judicial authorities under the auspices of the United Nations."

The meeting was closed by Dimitri Vlassis, Chief of the UNODC Crime and Corruption Branch, who congratulated participants on the fruitful and constructive spirit of the discussions, commenting: "The Global Judicial Integrity Network is an initiative of paramount importance in strengthening judicial integrity and preventing corruption in the justice system. This meeting has given consideration to numerous crucial issues and has shown the need to come together and help one another in addressing them. It will be an honour to work with you all as we continue to encourage other judiciaries and stakeholders to join us on this important journey."