---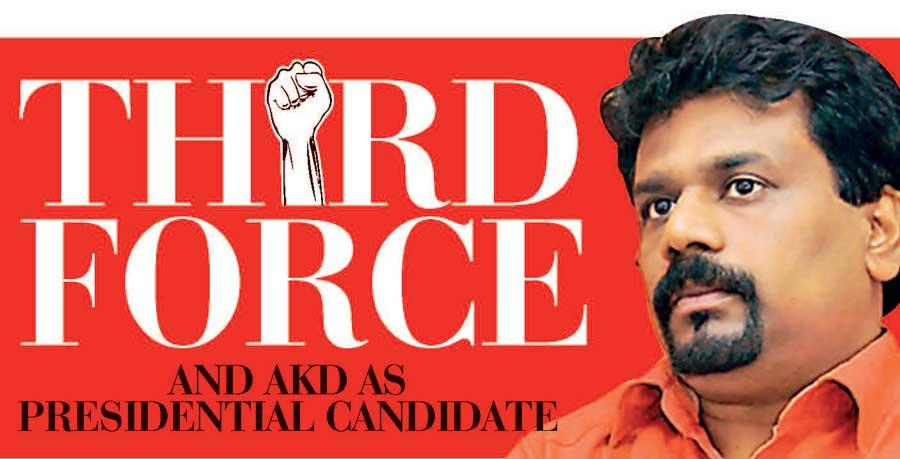 In conversation a few days ago while travelling in a 'tuk tuk,' an elderly driver asked me why there wasn't any law to disqualify candidates who did not present their political reason(s) within at least two weeks, for contesting elections. Over two dozen of the 35 candidates have not been heard of to date. Meanwhile, some claim they are the 'alternative' to the chaotic political culture that ruins the country. They claim they are not 'politicians' and therefore 'not corrupt.' Awfully off target, they believe only politicians are corrupt. All professions with no exceptions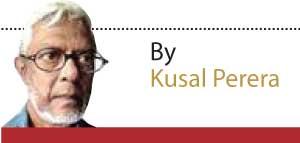 are wholly-corrupt. The entire public administration from ministry secretaries down to the KKS are corrupt. Law enforcement agencies at every level are corrupt. Even the judiciary has not been spared.
Who could then emerge as the 'third force' to checkmate this game? This remains the BIG question this presidential election. JVP Leader Anura Kumara Dissanayake (AKD), candidate of the National People's Power (NPP), at times comes critical of the system, but not clearly. Not clear and clean as Ranjan Ramanayake who recently told a group of journalists in Sinhala: "The 'demon' is decided by the 'domain.' The demon cannot clean the domain that created it. The domain cannot create clean demons also. It's the system. We have to change the system."
"All professions with no exceptions are wholly-corrupt"

With the old and illogical habit of looking for clean 'demons' in a rotten 'domain' dominating the social psyche at this election too, there is no serious political discourse led by any group on how to stop this decline. JVP remains a very articulate critic of the two mainstream candidates on their track records, but lacks an alternate programme to emerge as the 'alternate' force. That needs the type of intellectual base the 'old' Sama Samaja Party was able to attract and to date no other political party has been able to.
The LSSP was thought out by a group of young urban intellectuals led by Philip Gunawardena. They all had long exposure to idealistic debates while studying in the UK and the USA. They were very much influenced by Trotskyite debates in university circles and outside. "He (Philip Gunawardena) was fascinated by the profound criticism of the regime of Stalin by Trotsky and accepted the leadership of Trotsky. He was instrumental in forming in England the Trotskyite group among the Ceylonese. It was this group which later founded the Sama Samaja Party in Ceylon." (NM – In his own words: As seen by others, edited by Prof. Colvin Gunaratne / Page 301, Chapter - Philip Gunawardena – Father of Socialism in Ceylon / Tribute
by N.M. Perera).

These young intellectuals started their collective political work in Colombo and engaged in national politics when Dr. S.A. Wickramasinghe was elected to the State Council in 1931 and Philip and NM were elected in 1935. They were strong believers of "participatory democracy" and all organisations they created from the "Suriya-mal" movement to trade unions, student movement and the Sama Samaja Party itself were very democratic in their decision-making and in their functioning. They pinned their faith on mass participation in politics. When LSSP was proscribed in 1940 by the Colonial Governor, they functioned as an 'underground party' but never took arms as
did the JVP.

Their style of democratic work and ability to engage in intellectual discourse with a world vision attracted not only workers but academics and professionals too. In early '50s, the LSSP was called the Sama Samaja movement; not because they had a very strong trade union base, but because they had very respected university academics like Prof. Seneka Bibile, Osmund Jayaratne, Doric de Souza with them, public intellectuals and freethinkers like Abraham Kovoor and E.W. Adikaram as strong and loyal sympathisers, much respected Buddhist clergy like Ven. Walpola Rahula, Yakkaduwe Pannaseeha, respected poets of the Colombo era supporting them and also the Colombo city underworld that was very different to the underworld we know of today.

The JVP was the opposite of this democratic model of the Sama Samaja Party. By birth it was a clandestine armed group, totally outside national politics and mass participation. Its functioning was obviously conspiratorial and believed in capturing State power through armed insurrection with trained cadres. Their cadre was drawn entirely from socially and economically marginalised Sinhala Buddhist peasantry. Their ideological base was anti-Indian expressed as "Indian expansionism." Their cadre-based organisation controlled from top and structured vertically to take orders, did not leave any space for organisational democracy. All that left the JVP outside urban middle-class intellectual discourses
and social activities.
"JVP lacks a programme to emerge as 'alternate' force"

While the JVP splintered and fractured in prison cells after its miserably failed insurrection in 1971, arguing among themselves for the first time, Wijeweera retained the muscle power and ownership of JVP. Once released from prison after the new Jayewardene Government in 1977 revoked the Criminal Justice Commission Act, they attempted to superimpose their strictly cadre-based organisation on people-based agitations and protests and at elections. There was initial curiosity within the urban "Left" circles to know what this revolting youth politics is but faded off as Wijeweera kept the JVP rooted in its birth soil, the marginalised rural society.

Thus, when Jayewardene proscribed "Left parties" in 1983 accusing them of the July Tamil pogrom, the JVP once again exhibited it had not gained much from being in open politics. While the NSSP that was proscribed went underground to take to the old Sama Samajist tradition, the JVP went back to their old tradition of armed insurgency in rural Sinhala South. They took over the SLFP-led protests against the Indo-Lanka Peace Accord and Provincial Councils after 1987, leaving their initial "Socialist" ideology and the "Fidelista" model of revolting for power for a more brutal and savage "Pol Potist" insurrection on Sinhala Buddhist patriotism. Mercilessly pursued and crushed by State security forces in 1990, the remnant leadership that came out regrouped and began open politics by 1993 and contested the Hambantota District at the 1994 parliamentary elections in alliance with the Sri Lanka
Progressive Front.

This new leadership was without any from the JVP of 1971 insurrection to claim historical continuity. Somawansa Amarasinghe was the only surviving link to the old guard, but was in asylum in the UK. They therefore worked as a new collective of young leaders. This collectivism in the leadership gave them the opportunity to tinker with the old, authoritarian organisational structure to accommodate themselves in open mainstream politics. But they could not leave behind their limitations and fixation with rural Sinhala culture with continued recruitment from deprived Sinhala villages. Their intellectual quality therefore was restricted to that of continually decaying
"free education."

This JVP thus have their own contradictions. The leadership has gained much during the past 25 years in open politics. They gained many opportunities to expose themselves to a new world they had not been exposed to before. They travelled abroad and experienced a larger diverse world than what they knew when they were youth involved in bush-fighting. Knocking on their fifties or gone beyond the age of fifty, the leadership is now firmly entrenched in mainstream politics in urban life. They have all moved permanently into urban consumer life, yet carrying their idealism of a corrupt free society with social justice and equality.

They nevertheless have to live and answer their party cadre that still is rural and left out of the city centred open market. They are rural youth with personal aspirations modelled on free market consumerism, AKD now as their presidential candidate says is not the answer for "development." This contradiction between the leadership and the party cadre is one they cannot immediately resolve. They have not been able to acquire new intellectual capacities and engage with new thinking to hammer out a workable alternate national development programme that can accommodate their rural youth and the urban middle-class.
"The demon cannot clean the domain that created it"

That makes AKD not very different to others who claim they are "alternate candidates," other than in one important way. AKD as leader of the JVP is the only candidate who could be assumed to have some representation in the next Parliament too, has a trade union presence while maintaining a rural network of party cadres with a newspaper of their own. This political resource all others lack, needs to be seriously taken into account in recognising a "third force" though not as an "alternate force." It is this organised strength that would ensure post November 16 survival in politics.

This presidential election, as I said last week in my column here, "...is important for trade unions, that have loads of issues to campaign for in this export manufacturing economy on much patronised FDIs. In rural society, for farmers and fishermen, social space is important after November 16 for democratic and collective engagement on their issues. Important also, to check the political regime that would be voted to power with the new President elect in office. Ensuring social space in post-election Sri Lanka is therefore an indispensable factor, this
presidential election."

Of the two frontrunners this election, whoever wins the other will not present a decent and a clean opposition in Parliament, within a corrupt and a wheeler dealer economy. Ensuring post-election social space for democratic engagement therefore needs a "third force" outside Parliament, preferably with a voice in Parliament as well. That makes AKD important at this election. Important in ensuring a social presence as a third force they would be compelled to play in post-election Sri Lanka.