---
Finance Minister Mangala Samaraweera has opened a Pandora's Box, while presenting the budget for 2018, by saying that beer is healthier than sweetened soft drinks. It was obvious that he was justifying his budget proposal to reduce beer prices by way of a duty reduction. However, his remark has drawn flack from health-related organizations and interestingly not from any religious organizations.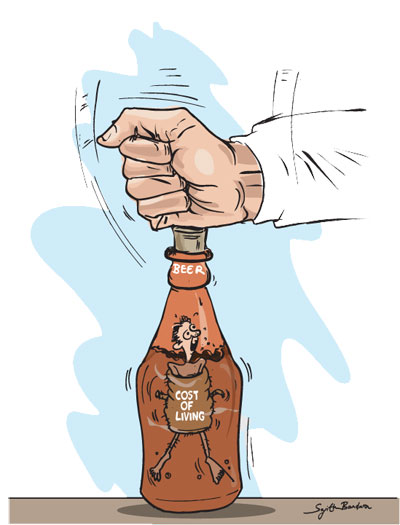 Newspapers had quoted Dr. Rukshan Bellana of the Government Medical Officers' Association (GMOA) as observing the comparison of beer and sweetened soft drinks by the Finance Minister as a shameful statement. Meanwhile, Dr. Prasad Katulanda of the Diabetes Association too had expressed his disagreement with the remark made by Minister Samaraweera.
It is a well-known fact that Mangala Samaraweera despite his switching of political parties is a principled man in social issues, though we may not agree with some of his views on those issues. Since the early nineties, he has been outspoken on many matters such as liquor consumption, homosexuality, power devolution, peace building and religious freedom. He dares to run into controversies whatever the consequences might be and always stands for what he has said and done. He stuck to his policies on social issues even though he at times changed his political affiliations.
However, it is unfortunate that on this occasion he has allegedly promoted and encouraged beer consumption through his budget proposal and his comments on it.
He was not totally wrong. The sweetened soft drinks and many other sweetened foods affect the health of the people. The growing number of diabetes patients even among children attests to it. But one should not ignore the harm done to one's health by alcohol just because sweetened foods could affect it. The Wikipedia states that, "The main active ingredient in beer is alcohol, and therefore the health effects of alcohol apply to beer." Therefore one cannot say that harm done by one means is better than that done by the other.
Minister Samarawera during a post-budget media briefing at the Parliament complex had said that a recent survey conducted by the University of Colombo had proven that 49 per cent of alcohol consumers were addicted to "kasippu". "Therefore, we should rescue the people, especially our youth, from illicit liquor such as kasippu," he had said.
However, as Minister Champika Ranawaka has pointed out, "kasippu" consumption would not go down just because of reducing the prices of beer. Price reduction of beer would create another group who would start liquor consumption with beer, Ranawaka had argued. He was correct as beer cannot compete with kasippu in rural areas due to the latter's easy accessibility and comparatively high affordability.
Medical officers representing the Alcohol and The Alcohol and Drug Information Centre (ADIC) and the Sri Lanka Medical Association (SLMA) recently pointed out that only 10 percent of the country's population consumes illicit alcohol, while only 20 percent of the total population use any kind of alcohol, and therefore the government should pay its attention to protect the 80 percent of the country's population who are non-consumers, from addiction to alcohol. The Alcohol industry tries to expand its customer base, targeting the 80 percent majority of the non-user population to drag them in by keeping arrack and beer at low prices, they had further pointed out. Alcohol and Tobacco Control Expert Committee member in the SLMA Sujeewa Ranaweera had said that in year 2016, the economic harm done by alcohol is around Rs. 141 billion.
President Maithripala Sirisena had said several times that he was prepared to ban liquor and tobacco consumption in the country but he would not do so, lest the liquor and tobacco consumers topple the government. Whether his comment corresponds with the aforementioned statistics, one should question the government in turn if the Finance Minister then wants to strengthen the hands of those liquor consumers who have the regime changing power.
There is a debate going on in the country about the foremost place given to Buddhism in the Constitution. It is interesting to know the stand taken by those who steadfastly stand for the present place given to Buddhism, on the encouragement given by the government to consume more and more beer, as they maintain a deafening silence.