---
President Maithripala Sirisena, in one of the most powerful speeches since his historic election victory in January last year, said on Monday that Sri Lanka's people and Mother Earth had been poisoned by agro-chemicals for more than 60 years -- and he solemnly pledged there would be no turning back from the decision to go for organic cultivation.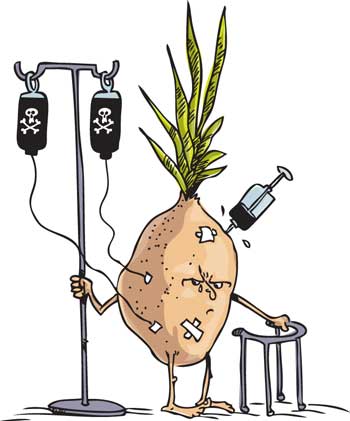 Addressing an international conference of organic agriculture scientists and other specialists, the President said he also came from a farming family in Polonnaruwa and understood the feelings of the farmers who were agitating for the Government to continue the provision of chemical fertiliser at a heavily-subsidised rate. But the President said he and the Government hoped to make the farming community aware that they would not be allowed to continue to pollute Mother Earth, the underground water resources and worse still to poison the people of Sri Lanka.

The international seminar at the BMICH coincided with the three-day exhibition and sale of food items -- ranging from rice to vegetables and fruits -- that were not polluted or poisoned by agro-chemicals but were cultivated with organic manure. Tens of thousands of people attended this landmark event -- the first major step in the Government's three-year mission to produce the food Sri Lanka needs through organic farming without the use of expensive imported agro-chemicals, most of which are toxic.

In a deep message analysing various issues in agriculture, the President said the farmers should be educated and given what they should have, not what they wanted. He cited the example of good parents who would not give children whatever they cried for, but would give only what the children needed or was good for them. The President said agriculture was a part or even the heart of Sri Lanka's ancient culture and civilization. Former leaders such as D.S. Senanayake and Philip Gunawardana, S.W.R.D. Bandaranaike, Sirimavo Bandaranaike and Hector Kobbekaduwa had done much to uplift the living standards of the farmer community.

Unfortunately, for the past sixty years the Governments and Sri Lanka's farmers had been misled by international agriculture experts who had claimed there would be a so-called green revolution if imported chemical fertilizers, pesticides and weedicides were used. Huge trans-national chemical companies sponsored and supported these claims. Unfortunately Sri Lanka's farmers swallowed these poisoned lies and we see today the grave and devastating consequences. Mother Earth and our ground water resources were polluted and Sri Lanka's people including millions of innocent children were forced to eat poisoned or polluted food. That was the main reason why most people were falling sick more often. The Government could not and would not allow this unhealthy grave trend to continue any longer.

The President said the Government headed by him and Prime Minister Ranil Wickremesinghe was confident that Sri Lanka's agriculture experts, all political parties, the farmer community and religious leaders would actively support the transformation to organic agriculture. He said this transformation would not be an easy one, but a challenging mission because most people including the farmers often did not like to change their attitudes or approach. Premier Wickremesinghe addressing the conference said that government hoped that within the next few years Sri Lanka would become an organic farming model for Asia. He said this would be a vital step in Sri Lanka's contribution towards finding a solution to the worldwide ecological crisis. By restoring the fertility of Mother Earth, Sri Lanka could make a significant contribution towards the mission to save Mother Nature and Planet Earth.

The President and the Prime Minister paid the glowing tribute to the Ven. Athureliya Rathana Thera who for the past five years had pioneered this mission to make Sri Lanka a 'wasa wisa nethi' country. The prelate had encouraged farmers to successfully use organic fertiliser for the cultivation of various crops in about fifty thousand acres of land and hope to increase it by about tenfold or more within the next few years. The exhibition and sale of 'wasa wisa nethi' food and organic fertiliser ended yesterday but it was only the start of an enlightened mission to make Sri Lanka a healthy nation, and thereby a wealthy nation.