---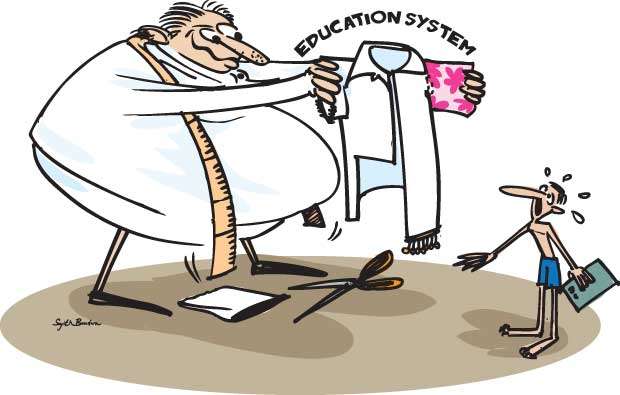 The legendary South African President Nelson Mandela has said education is the most powerful weapon which could be used to change the world. Another moral and spiritual giant Mahatma Gandhi acclaimed by India as the Father of the Nation has said, "Live as if you were to die tomorrow. Learn as if you were to live forever". One of America's most popular 20th Century poets Robert Frost has said Education is the ability to listen to almost anything without losing your temper or your self-confidence.
Reflecting on the vital role that education plays in our lives, the government needs to be commended for some of the important changes it has made in education. For instance every child will have 13 years of education. Even if the child fails the GCE Ordinary level examination there will be no need to drop out. Provision has been made for such students to go into vocational training in areas ranging from high technology to star-class hotel culinary skills. In financial terms the government has provided substantial health and life insurance policies for public school children and their parents.
In addition, steps are being taken to make the nearest school the best school though in recent months, political instability has made the process slow and unsteady. The 2018 budgetary allocation for education has also been increased to the highest level.
While commending these moves and hoping that from next month, when Parliament meets again after the National New Year prorogation, the government will take practical steps to implement its policies. We also wish to spotlight here some serious drawbacks in the field of education.
The Uva Province Chief Minister and its former education minister, Chamara Sampath Dassanayake, who was suspended for allegedly forcing a female principal to kneel in his presence at his office in Badulla, has reportedly been reinstated in his education portfolio, according to the Ceylon Teachers Union General Secretary Joseph Stalin.What a shame and a sham.
On January 3 this year, Mr. Dassanayake was asked to step down from his education portfolio post after allegedly having humiliated and threatened Badulla Tamil Girls' School Principal R. Bawani. Following widespread protests, President Maithripala Sirisena had removed him from his education portfolio until investigations were completed.
The Chief Minister, according to the teachers' union, was reinstated last week, prior to former Uva Province Governor M.P. Jayasinghe being transferred to the North-Central Province.
"We see that this has been a drama; an election trick. The Magistrate's case against him has not concluded and the Human Rights Commission is still conducting investigations, but he has been reinstated," the CTU lamented. Mr. Stalin warned that the CTU, other unions and organisations, would take action over the reinstatement after schools reopen. The CTU has already sent a letter to the President, protesting Mr. Dassanayake's re-appointment. But some political observers claim the President himself had approved the reinstatement.
In October last year the CTU had sharply condemned the appointment of North-Central Provincial Councillor Ananda Sarath Kumara, as the Sri Lanka Freedom Party (SLFP) Organiser for the Anamaduwa Electorate. In 2014 Mr. Kumara had been sentenced by the Puttalam High Court to two years rigorous imprisonment suspended for seven years and ordered to pay Rs.300,000 as compensation for forcing a female school teacher to kneel in his presence. He was also ordered to pay a fine of Rs.50,000 and in default, serve a prison term of six months. Former president Mahinda Rajapaksa had refused to give Mr. Kumara nomination and the CTU said President Sirisena could not justify his appointment.
Discipline is vital if Sri Lanka is to produce educated, eco-friendly and responsible citizens. But if highest level politicians are condoning such indiscipline we are deeply concerned over what will happen in our schools and to our children, the next generation.