---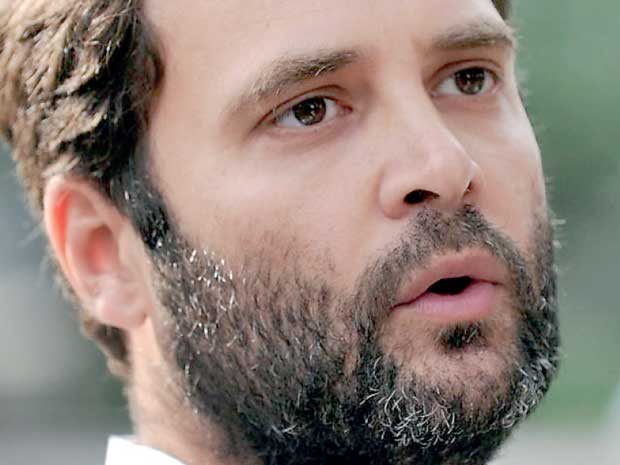 Rahul Gandhi is a type of young man one meets near a small stream, perched on a rock with a fishing rod or seated under a tree writing poetry. A soft hearted romantic, la Byron.

Surely the mild 47-year-old scion of the Nehru-Gandhi dynasty is not made for sterner stuff. However despite this knowledge his family and the party refuse to give up on him.

Buoyed by the recent by-election victory in Gujarat and pushed by an electorate reeling under GST, unemployment, demonetization, ethnic riots and a low growth rate, the Indian National Congress (INC) is poised to elect Rahul Gandhi as party President in a few days' time. He will thus become the fifth member from the Nehru-Gandhi family to chair the Congress.

Irrespective of criticism on dynastic politics it is also a fact that if not for the family the secular Congress, which is based on a liberal ideology and comprised of a disparate group of politicians, would have ended in total disarray. With both secularism and liberalism being indiscernible concepts to Hindu masses as opposed to the Hindutva ideology of the BJP, the dynasty has been the key marketable commodity during polls and the rallying point for Congress rank and file. With only one and a half years for the 2019 Lok Sabha polls, Sonia Gandhi, who has been holding the party top post for her son since 1998, too it appears to have decided that time was ripe to handover party mantle to her son giving him ample time to cultivate and rally support from Congress seniors. Besides, there are eight state elections too to face next year.

So forget his flaws – a record number of scoot offs to exotic destinations whenever there was a rise in domestic political temperatures, smiles flashed at party debacles and tears shed when there's reason for celebrations, poor performance in parliament including snoozing and a whole host of other misgivings, Rahul Gandhi is still the face to sell Congress against PM Narendra Modi's government in 2019. Given the unpredictability of voter temperament, the power saturation already reached by the BJP-led government and the growing unemployment rate and inflation, one should however not be surprised if one finds Rahul Gandhi occupying the premier's chair post polls.

After all what appears to be to Gandhi's disadvantage could also turn out to be blessings in disguise at an election where PM Modi's popularity would be on the wane. When juxtaposed against the ambitious, passionate, experienced, mature, hard-nosed, senior Hindutva politician Modi the unambitious, mild, untested, youthfully good looking and flexible Gandhi no doubt has all the attributes of a star by default.

Besides the Nehru-Gandhi track record as 'saviours of the nation' is sure to come in handy. However the challenge before Rahul Gandhi is far greater than what his mother inherited in 1998. By the time Sonia Gandhi took over the reins of the Congress Party, though weakened it had 114 seats in Lok Sabha. Today the numbers have been reduced to a pitiable 44. Within barely eighteen months the new leader is expected to convert Congress from a contemptible loser to a veritable phoenix by winning next year's state elections and forging many alliances.

Congress, it is learnt, has already roped in Cambridge Analytica which has UK's Brexit campaign and Donald Trump's media campaign among its success stories. Perhaps it has got anything to do with the soaring twitter popularity of Rahul Gandhi which has been attributed to paid twitter accounts or bots.

In 2013 the day after he was appointed Congress Vice President, Rahul Gandhi made an emotional speech in the Rajasthan capital, Jaipur. "Last night……my mother came to my room and she cried because she understands that power is poison," he said addressing the All India Congress Committee (AICC) meeting.

Power no doubt is poison especially for those who have been pushed to the task. Though burdened with the memories of the ups and downs in family fortune and the assassinations of his grandmother and father, Rahul Gandhi has no choice but to embark on the same perilous journey today whether he likes it or not.