---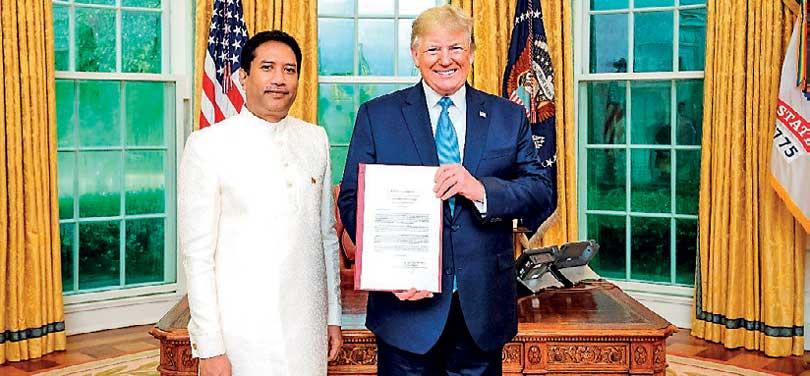 ■He welcomed Sri Lanka's commitments to promoting reconciliation, accountability, and justice in pursuit of lasting peace
US President Donald Trump has reiterated his commitment that the US would stand with Sri Lanka in the aftermath of the Easter Sunday terror attacks and expand counter-terrorism, maritime, and border security cooperation with the island nation

President Trump has expressed this when Ambassador of Sri Lanka to the US, Rodney Perera presented his credentials to the US President on Monday.

While welcoming Ambassador Perera to Washington DC, President Trump also stressed the importance of working together to strengthen ties between the two countries, which are rooted in a shared commitment to democracy, human rights and the rule of law.

"He welcomed Sri Lanka's commitments to promoting reconciliation, accountability, and justice in pursuit of lasting peace following the civil conflict," the Foreign Affairs Ministry said in a statement yesterday.

Ambassador Perera conveyed to President Trump the greetings and best wishes of the President, the Government and the people of Sri Lanka.