---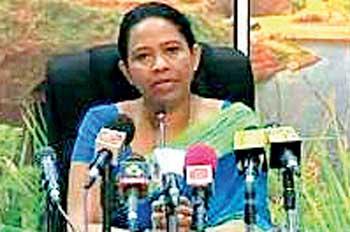 By Sandun A Jayasekera
As mentioned by the Health, Women Affairs and Social Security Minister Pavithradevi Wanniarachchi The payment of Rs. 5,000 stipend for the month of May to the poorest of poor families who have been severely affected due to the current crisis was re-commenced yesterday (18) and will be concluded on May 27. The free grant of Rs. 5,000 has been paid to 35,500 families by the government at a cost of Rs. 2.5 billion, she added.
Instructions have been sent to Grama Niladharies to make payments to only 100 families at a time in each village adhering to safety regulations.

The families entitled for the financial relief will be informed by the Grama Niladhari when they are required to call over to collect the payment. They also will be told to follow safety measures and to observe safe distancing procedures," Minister Wanniarachchi said.

If in a village, there are 500 persons who qualify for the payment, they must be paid in five groups on five separate days, Minister Wanniarachchi said.

Minister Wanniarachchi said the government has also paid Rs. 39,88,175 million as payments to senior citizens, and to those over 100 years of age, the payment for differently abled persons and patients suffering from Chronic Kidney Disease in April to a total of 797,635 families.

The total number of Samurdhi families who benefited from financial grants was 5,144,046 and the amount paid was Rs. 25,720 million.

"All those who were paid in April will also be paid in May as well. However, those deserving families who have not received financial assistance to date can make an appeal through the Grama Niladhari to the respective Divisional Secretary, she noted.