---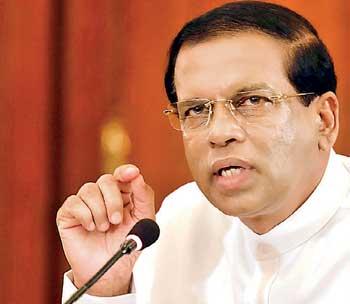 President Maithripala Sirisena on Saturday called on Asian countries not to allow outside powers to suppress the power of Asia.
The Asian region, as the forerunner of the next century, should be strong and powerful in every aspect especially in peace and economic strength is the Century of Asia, he said.
Addressing the Fifth Summit of Heads of State of the Conference on Interaction and Confidence Building Measures in Asia (CICA) in Dushnabe in Tajikistan on Saturday (June 15) he warned against undue interference in internal affairs of countries in the guise of
human rights.
"At this gathering I especially request not to damage and interfere in the sovereignty of the countries because of allegations of human rights violations." He emphasized that freedom and democracy are indispensable features of every country. Any effort to influence and intimidate free nations is not acceptable in any way. President Sirisena pointed out that one important factor to face the challenge posed by terrorists and violent extremists is the cooperation among nations which is essential to face the challenge of terrorism.
"Peace plays a vital role in alleviating poverty too. As much as peace is essential to win the battle against poverty, defeating terrorism is imperative in order to ensure equal economic prosperity for every citizen," he stated and pointed out that in this endeavour, strengthening economic objectives is also essential.
At this gathering I especially request not to damage and interfere in the sovereignty of the countries because of allegations of human rights violations