---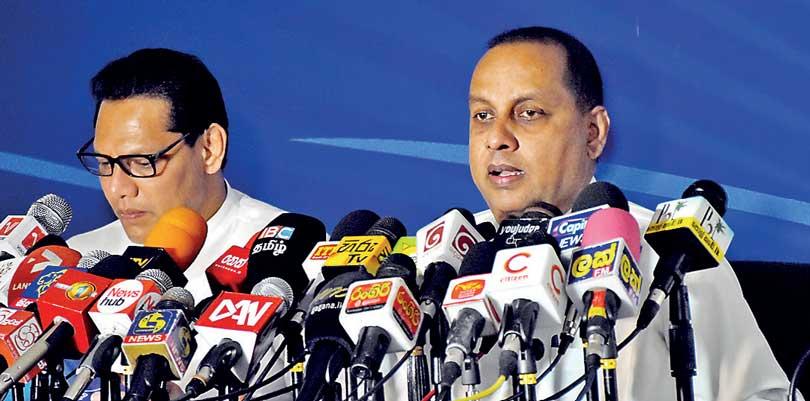 By Sandun A Jayasekera
The UPFA had problems on discipline among alliance's members who joined the UNP in 2015 to form the Yahapalana Government but the UPFA has no problem now to take disciplinary action against errant members as all UPFA members have quit the government, General Secretary of the UPFA, Mahinda Amaraweera said.

The Central Committee of the UPFA has unanimously decided to take disciplinary action against all members who have joined either the UNP or SLPP, he added.

Addressing the weekly news briefing at the party office, Mr. Amaraweera said only Kumara Welgama opposed to the forming of a national government with the UNP in 2015 and as such all other UPFA members who joined or supported the yahapalana government had done wrong.

"However, the situation became to a boiling point after national list MPs, SB and Dilan obtained the SLPP membership. After the SLFP Central Committee decided to initiate disciplinary action against Dilan and SB, our party supporters asked us 'Why only SB and Dilan. Therefore, we decided to take action against all SLFP or UPFA members who joined the UNP and SLPP," Mr. Amaraweera said.

All members who have betrayed the SLFP would be replaced with the next member of the district who has obtained the highest number of votes after the sacked MP, he said. Commenting on the SLFP – SLPP talks, Mr. Amarawera said the SB and Dilan joining the SLPP was a setback to the talks.

"We still hope the dialogue between the two parties would be concluded in a positive note paving way for the two parties to field one candidate representing both parties, he said. The SLPP must also admit that no political party would be in a position to obtain over 50% votes without the support of the SLFP," he added.
However, the situation became to a boiling point after national list MPs, SB and Dilan obtained the SLPP membership. After the SLFP Central Committee decided to initiate disciplinary action against Dilan and SB