---


An amazing story of a small staff of academics who have to negotiate the movement of elephants daily to reach a schoolhouse in Tambuttegama to discharge their duties

While walking home after visiting relatives at Ihalagama one afternoon, I had a conversation with two teachers on a scarcely travelled roadway. They were returning from Netiyagama School (which has a population of 77 students) which is situated far out in the forested headwaters of Mahakanadarawa Irrigation Reservoir. The male teacher on his Indian motorcycle is my friend. The female teacher on her scooter serves on the same staff. She is heading to Anuradhapura, to her home. which is 28 kilometres away.
On seeing me, my friend halted his bike to talk to me. The female teacher also slowed her bike to a stop. As I greeted her, she smiled and said, "We have to go together. There are elephants on the Gal Wetiya lande up ahead. Mr. TMB escorts me on this stretch everyday".
It was a poignant answer and an equally poignant moment in the life of two teachers in a small village school in Sri Lanka.
Village school teachers like the two I joined come to work daily not just by facing off wild elephants on lonely roads like this, but also by travelling long distances.
I hop on to the pillion of my friend's bike and we continue with our journey. In the shade of a large banyan tree on a lonely spot on this narrow road, a convoy of travelers on motorbikes, 3-wheelers, and bicycles were waiting. All around us we saw nothing but thick forest. The road extends through this rarity and joins the A12 where it cuts the Mahakanadarawa Reservoir in two. This is wild elephant country in the reservoir triangle connecting Mahakanadarawa, Nachchaduwa and Huruluwewa.
No one proceeds beyond this spot without an escort or assurance, which can be given only when a 4-wheeled vehicle arrives from the opposite direction. We joined the convoy awaiting that chance vehicle.
In a little while the convoy flagged down a Toyota HiAce heading towards it. The driver of the van dutifully certified that the road was clear of elephant activity. We all proceeded hastily. Four kilometres down the road another convoy of travelers were waiting until a four-wheeled vehicle or a convoy like us arrived.
Village school teachers like the two I joined come to work daily not just by facing off wild elephants on lonely roads like this, but also by travelling long distances. A teacher I know of makes a prohibitively arduous 40 kilometers one way journey from Talawa near Tambuttegama to teach at Maradankalla School in this reservoir-triangle. Tracing his travel route, I found out that it consists of a Sapaththu Paalama (artificial depression built on the road surface for water to pass), a few by-roads, semi-highways and gravelled or macadamized road sections stretching through jurisdictions of over half dozen Grama Niladhari Divisions (all these areas covering three parliamentary electorates).
Teachers like these with amazing gravitas toiling in obscurity in village schools are my heroes. Someone must make this trip daily for one week to get a measure of appreciation of their trying commute and undaunted enthusiasm for the revered profession.
A pervasive attribute of many who write on the life of remote Sri Lanka, particularly those communities in the middle or bordering the pockets of sizeable forest, is to devote all their poetry not to the people living there, but to the elephants in the midst which terrorize the villages on a daily basis. The economics of tourism and flowery cultural iconic status which embellish the Sri Lankan elephant have raised them to a deified standing worthier than the ordinary villagers. This report is about the woes of a group of people among such villagers: the commuter teachers whose daily trip to the work-place in the village extends through the ravaging infestation of rogue elephants in the forested bowels of remote Sri Lanka.
As a villager with life-long experience in this reservoir triangle, I have seen the scope of death and destruction elephants cause on the hamlets scattered here. Yet, I am at a loss to understand why many who scream bloody murder when an elephant falls into an agri-well, is hit by a train or is maimed by a trap gun while news of the death of a villager attacked by a rogue elephant, or killed by being tripped on a trap gun is only reported with lukewarm warmth except as a space-filler in the provincial section of a newspaper. Remember, these elephants are not our gilded darlings who step in tune with drums on white-carpeted city streets and light up the cheery processions.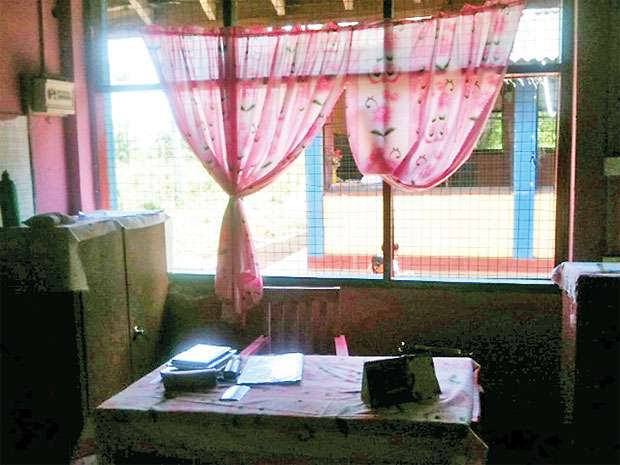 One of the classrooms
The thankful villagers and their children know the luck of their lives depends on the unfathomable dedication of these teachers.
Incentives
Teachers in difficult areas receive incentives. But they are a pittance compared to what relief most other teachers who don't have to toil through elephant infestation get. These superfluous reliefs range from time saved to participate and assist in their own children's educational activities, going to work and return home safely, and other conveniences we take as granted while working in an urban setting.
This is not to suggest that all teachers in rural schools prefer to be in an urban setting. But be that as it may, there are many among them with young children who would love the opportunity which amplifies their chance of getting the child into a better equipped school. Sadly, getting a transfer out to a school in an urban environment is out of the realm of realities for a rural teacher. A mutual transfer or some sort of quid pro quo arrangement is inconceivable since no one will agree to expose themselves to such daily dangers in a forsaken back-country place. Such hassle is no doubt a demoralizing experience to many, but the village school teachers tell me they must be strong to match the dawn-like innocence and unforgettable smiling faces of kids when they set foot in the classroom, every day.
The elephant problem here does not seem to abate soon. Because no plausible solution is in the horizon. So, the elephants keep coming or being trucked to settle among the communities far from the glare of population centres, and village residents' life in general and their travelling become ever so difficult and dangerous. Rural communities are powerless to fuel a notion of Not-in-My-Backyard (NIMBY) movement to safeguard their interests and oppose the elephant explosion.
When the commuter teachers of Netiyagama exit the A12 Highway and disappear along the strip of road through the jungle in the headwaters of Mahakanadarawa, they evanesce in to the new normal – beginning of the daily duel, i.e. the waiting rogues.This is a very unpalatable situation: having to deal with the new four-legged 'migrants' ad nauseum, still fuming with pachydermous anger having just been separated from their home range far out in another district.
Moreover, when it rains, it brings another kind of misery to this school; among other things. The teacher must stop teaching and hurry to pull down the curtains, so the kids stay dry from the rain drops shooting across the room. During the dry season, the half-walled classroom gets to withstand winds which often blow dust clouds from the school yard. If you pull the curtain down, the classroom becomes an oven.

Occasional serenading call of a jungle fowl in the purlieu of the school made it a pleasant place to work at. But soon one's blood went cold when the intermittent growling of grumpy herds of elephants echoed from the sprawling forest around the school. For those who know and share such travails in these elephant-frequented neighborhoods, the teachers are a sacred tribe many know little about. The thankful villagers and their children know the luck of their lives depends on the unfathomable dedication of these teachers. It's not a secret that such teachers prop in their quiet ways the efforts of a proud profession trying to hold intact it's revered pedagogic traditions that are under attack from, among other forces, the vicissitudes we call currents of mass-scale modern tutorial practices.
Thirst for teaching
Village schools don't have land-line telephones nor high-power microwave towers nearby. So, they don't have access to Internet. Where it is available, it's a common tool most teachers use to sharpen their trade. Googling for interesting study materials is a luxury denied perforce to the village school teachers (and students). Nevertheless, their classroom achievement expectations and accountabilities are placed in the same level as the well-provided teachers elsewhere.
Yet I have found no rural teacher who shifts blame to unavailability of similar modern teaching devices and designs at their disposal. Instead, their thirst for teaching perfection remains as strong as ever by bringing their sterling passion and graceful exuberance to the school every day. It is a well-known secret that a National School gets the credit when the 5th Grade Scholarship prodigies who come there from the village school top the O/L result list. But the efforts of the village school teachers, which help lay the foundation for these future scholars to excel during their formative years, cannot be overemphasized. Some extracurricular efforts of these teachers support this claim. The teacher who travels 80 kilometres roundtrip found time to network with a teacher at the Netiyagama School to produce a 6-page bi-lingual school newsletter at Maradankalla School (175 students) with the participation of his elementary and Ordinary Level students! To my knowledge, this is a first of its kind in the district!
These teachers won't get any honorifics. Their dreams of building up the vita for promotions are dissolved in the forest cover they must cross every day. But the distinct tenet of these teacher heroes is that they are sacralized for this ritual by placing the importance of education and safety of their students before any inordinate threats to their own safety that hang ahead of them with the certainty of the caw of the crow at daybreak. If you join any of these teachers one day as they make the tensed trip on roads extending through high forests where a startled elephant can pop up at any bend at any given moment, I bet you will agree with me to suggest not just a 'danger pay,' but lace them with the well-deserved honorific, Agraguru or Disapamok.
There are rural schools that have closed down having found it difficult to withstand assortment of threats to their sustenance. Such schools rarely receive remedial suggestions to arrest the impending disaster. I only know that a few years ago such realities played a role in the demise of Ihalagama School with 19 students, having the bad luck of being situated in this elephant heaven, half-way between Netiyagama and modernity – the A12 highway. Now, only the ghostly ruins of the dilapidated one-room schoolhouse remain as a stark reminder of the fate of the forgotten. Thankfully, Netiyagama School is still holding forth tough owing to the dedication and honor of its singular teaching staff. They, and many of their brethren in similar circumstances are waging a daily struggle not to be equated to the Ihalagama situation. How can we not call them heroes?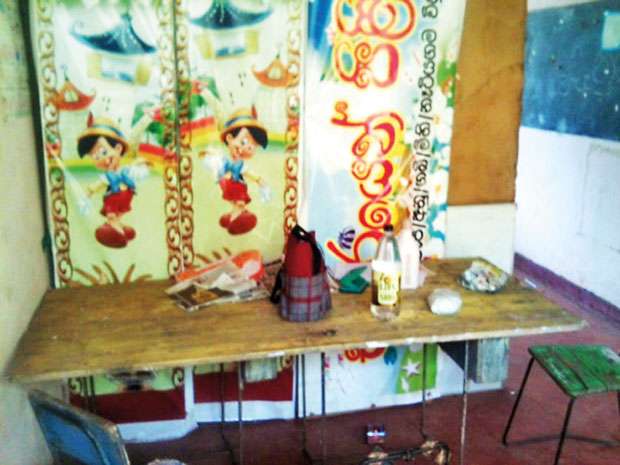 Teachers' Lunch/Staff Room
The teacher who travels 80 kilometres roundtrip found time to network with a teacher at the Netiyagama School to produce a 6-page bi-lingual school newsletter
Only they know they work in an environment verging on excellence. Recently,Kahapathwilagama School, about five kilometres further south of Ihalagama, produced an O/L student with 7 As. I wouldn't trade the primary education I received at Maradankalla school for a million. These are inconsequential or chance achievements to many, but worthy success stories of teachers that these villagers cherish. The hero-teachers I have characterised here are just a sample who work hard in rural Sri Lanka. By writing about their extraordinary diurnal struggle to get to the small schoolhouse to discharge the deeds of an honourable profession while fighting off all manner of inconveniences, not to mention the deficient work environment unfairly inferior than their brethren in cozy settings elsewhere, I can appreciate their perseverance, and bestow the word hero-teacher of the village school the greater precision it aptly deserves.